Valentine's Day is round the corner and how will you celebrate the spirit of this holiday? Renting a movie to watch at home with your significant other seems great. Here in the season of love, we list the best Valentine's Day movies of all time and also want to recommend you some new Valentine's Day movies of this year.
Best Valentine's Day Movies of All Time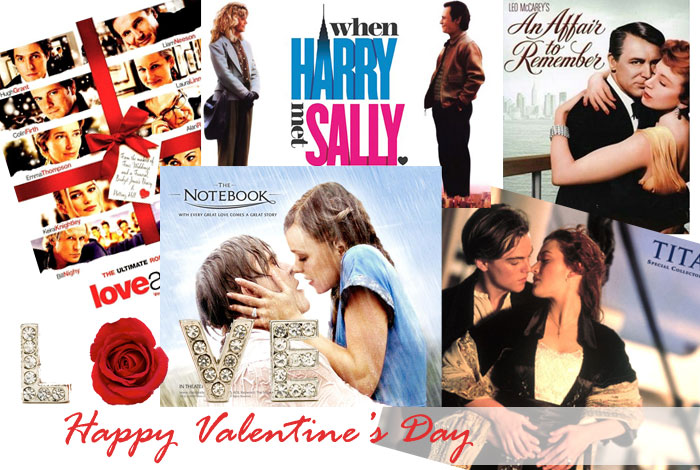 An Affair To Remember (1957)
The film is considered one of the most romantic of all time, according to the American Film Institute. It's a satisfying romance that works from beginning to end, featuring movie stars of the day that you just can't help but adore.
Cast: Cary Grant, Deborah Kerr
When Harry Met Sally (1989)
Harry and Sally have known each other for years, and are very good friends, but they fear sex would ruin the friendship. Rarely do we see such a film that covers as much as an entire decade of a relationship.
Cast: Billy Crystal, Meg Ryan
Ghost (1990)
After being killed during a botched mugging, a man's love for his partner enables him to remain on earth as a ghost. The film was nominated for five Academy Awards, including Best Picture, Best Score and Best Film Editing. A perfect balance of laughs and tears, a sparklingly funny script and a clever fantasy about ghostly goings on make this a superior blockbuster romance.
Cast: Patrick Swayze, Demi Moore
Casablanca (1942)
It's one of the most famous romantic classics ever set in unoccupied Africa during the early days of World War II. An American expatriate who owns a nightclub in Casablanca, meets a former lover, with unforeseen complications.
Cast: Humphrey Bogart, Ingrid Bergman, Paul Henreid
The Notebook (2004)
A poor and passionate young man falls in love with a rich young woman and gives her a sense of freedom. They soon are separated by their social differences but are eventually united. The story of their love, written in the notebook, proves love is beyond wealth and society and even age.
Cast: Ryan Gosling, Rachel McAdams
Breakfast At Tiffany's (1961)
An independent, charming socialite falls in love with an aspiring writer. Audrey Hepburn gives one of her most stylish and iconic performances in this film, one of my favorite movies. Cast: Audrey Hepburn, George Peppard
Love Actually (2003)
Follows the lives of eight very different couples in dealing with their love lives in various loosely and interrelated tales all set during a frantic month before Christmas in London, England.
Cast: Keira Knightley, Alan Rickman, Emma Thompson, Hugh Grant, Rowan Atkinson
Roman Holiday (1953)
A bored and sheltered princess escapes her guardians and falls in an American journalist. It's another classic movie of Audrey Hepburn. Hepburn also won an Academy Award for Best Actress for her performance.
Cast: Audrey Hepburn, Gregory Peck
Shakespeare in Love (1998)
Shakespeare in Love won seven Oscars, including Best Picture, Best Actress (Gwyneth Paltrow), and Best Supporting Actress (Judi Dench). It depicts a love affair involving playwright William Shakespeare (Joseph Fiennes) while he was writing the play Romeo and Juliet.
Cast: Joseph Fiennes, Gwyneth Paltrow
Titanic (1997)
Titanic is an epic that's see-worthy indeed which ranked as the most expensive film in Hollywood history at the time of its release, and became the most successful. Leo and Kate make a great on screen couple.
Cast: Leonardo DiCaprio, Kate Winslet.
If you're a great fan of Leonardo DiCaprio, click here to learn some interesting info about his new movie The Wolf of Wall Street.
Upcoming Valentine's Day Movies – 2014 Valentine's Day Movies
In addition to those classic top Valentine's Day movies, some new movies of this year are also worth watching.
That Awkward Moment (Jan 31)
It tells a story about three best friends who find themselves where we've all been- at that confusing "moment" in every dating relationship when you have to decide "So...where is this going?"
Cast: Zac Efron, Michael B. Jordan, Miles Teller
Endless Love (Feb 14)
The story of a privileged girl and a charismatic boy whose instant desire sparks a love affair made only more reckless by parents trying to keep them apart.
Cast: Alex Pettyfer, Gabriella Wilde
About Last Night (Feb 14)
The film is based on the 1974 David Mamet play Sexual Perversity in Chicago and is a remake of the 1986 film of the same name. New love for two couples as they journey from the bar to the bedroom and are eventually put to the test in the real world.
Cast: Kevin Hart, Michael Ealy
Winter's Tale (Feb 14)
A burglar falls for an heiress as she dies in his arms. When he learns that he has the gift of reincarnation, he sets out to save her.
Cast: Colin Farrell, Jennifer Connelly, Russell Crowe
Thanks to its open source and versatile features, HandBrake is currently the most sought after free DVD ripper out there. But many people are looking for an alternative to HandBrake due to its common errors like No Title Found, Video or Audio out of Sync, etc. To save your time, here's one of the best HandBrake Alternatives in 2014 – WonderFox DVD Video Converter. It can easily convert the best Valentine's Day movies above mentioned to any video format or any hot device including iPhone 5S/5C, Samsung GALAXY series, HTC, PSP, PS4, Xbox One and any more.

Recently Released Hot DVDs
Copy and Back up DVD Captain Phillips to iPad Air, iPad Mini
Wanna back up DVD Captain Phillips? With a few clicks, you can copy DVD Captain Phillips and converter it to any format or any devices with excellent video audio quality.
Copy DVD THE BUTLER without Quality Loss
This article is to tell you how to copy DVD The Butler to pc or any pop IOS and Android devices for convenient playback. You can also backup DVD The Butler to MP4, AVI, MKV, MOV, FLV, SWF, etc with zero quality loss.
Rip and Convert Cloudy with A Chance of Meatballs 2 to See How Leftovers Fight Back
Cloudy with a Chance of Meatballs 2 is the sequel to the 2009 film Cloudy with a Chance of Meatballs. As a 2013 American computer-animated comic film, this film is a good choice for family and kids.