Solution to Backup DVD X-Men: Days of Future Past
X-Men: Days of Future Past, released on May 23 worldwide, has drawn a lot attention of movie-goers as another superhero film. It is believed collecting its DVD to be extremely worthwhile. You may pre-order it now on Amazon, and the price is $18.99. If you want to preserve it for future purposes, consider backing it up after its arrival. Access to purchase the DVD X-Men from Amazon.com: http://www.amazon.com/X-Men-Days-Future-Past-Blu-ray/dp/B00K7IPGS6/ref=sr_1_2?ie=UTF8&qid=1417672276&sr=8-2&keywords=X-Men%3A+Days+of+Future+Past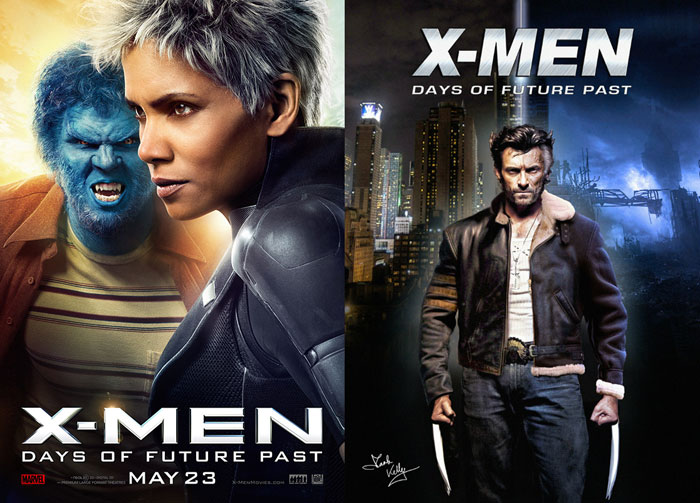 More Story of X-Men: Days of Future Past
X-Men: Days of Future Past is a sequel of The Wolverine (2013), following X-Men Origins: Wolverine (2009) and X-Men: First Class (2011). This movie is directed by Bran Singer and distributed by Twentieth Century-FOX Film Corporation. Famous stars of Hugh Jackman, James McAvoy, Jennifer Lawrence, and peter Dinklage gather together to play story of X-Men: Days of Future Past.
The main plot is that X-Men has to go back to past to prevent survival crisis which would happen in the near future. To save his life before extinction, Wolverine joins hands with young mutant Charles Xavier and his opponent Magneto to find Raven to stop Bolivar Trask's extinction research. A decisive battle will start.

Why Not Backup X-Men: Days of Future Past
Backing up X-Men: Days of Future Past is of great convenience for you to play back the thrilling storyline anytime anywhere. Your need to rip DVD X-Men: Days of Future Past for future purposes in case DVDs are oxidized. Because commercial DVDs are always encrypted, we need a DVD video converter to remove region code and DVD CSS. I advise you to try Wonder Fox DVD Video Converter out. This DVD converter can unlock any DVD region code without quality loss at super fast speed.
Step-by-Step Guide to Backup DVD X-Men: Days of Future Past.
Tip: before you backup DVD X-Men: Days of Future past, you need to ensure that this software is downloaded and installed successfully.

Step 1: insert DVD to PC DVD-ROM and double click to run this converter. Load DVD X-Men: Days of Future Past. The ripper will automatically recognize DVD content and read Main Movie.
Step 2: output format is smart-fit. This converter supports a wide range of video formats, such as convert DVD to AVI, DVD to WMV, and DVD to MKV and so on. Some popular portable devices (HTC One M8, Samsung Galaxy S5, iPhone 5S, blackberry PlayBook) are also supported.
Step 3: setting is adaptive as well. You can customize your setting by adjusting encoder, resolution, Bit Rate or other factors, if you have further demands.
Step 4: choose output folder and click "Run" to rip DVD X-Men: Days of Future Past.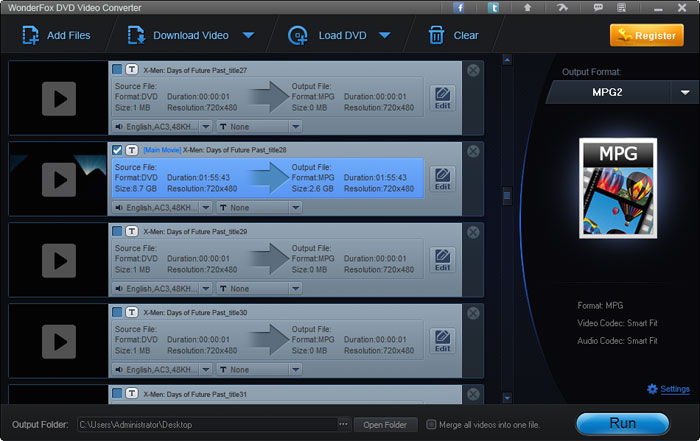 Movies You May Be Interested in:
The Amazing Spider-Man 2, May 2, 2014- a superhero movie adapted from Marvel Comics is about his greatest battle.
Godzilla, May 16, 2014-a sci-fi monster movie based on Japanese movie Godzilla in 1954 emphasize direct impact on biological variation caused by atomic bomb.
Still have trouble about backing up DVD? Please feel free to Email Us >>
Related Resource
Copy DVD Frozen - talks about DVD Frozen and tips on how to copy DVD Frozen in the best way.
Rip DVD Captain America: Winter Soldier - for collection will be a good choice.
Rip DVD The Wolf of Wall Street - with the best HandBrake alternative with blazing-fast speed and original high quality.
Rip DVD Thor: The Dark World - easily copy DVD Thor 2 and transfer it to your portable devices.
Backup DVD Gravity - PC and portable devices could be as easy as eating a pie.
Rip DVD The Hunger Games 2 - with high quality, you are able to rip this DVD to any format and any device like iPad Air, iPad mini 2, iPhone 5S, etc.
Related Software
WonderFox DVD Video Converter - all-in-one media solution includes DVD Backup, DVD Rip, Video and DVD Converter, Video Downloader, Video Editor/Player
HD Video Converter Factory Pro - equipped with advanced High-Definition (HD) video conversion technology. It can help users convert videos from Standard-Definition (SD) to High-Definition (HD) like HD MP4, HD MKV, HD AVI, HD MTS, HD TRP and also enables users to cut down the video size (convert HD videos to SD videos)
Video Converter Factory Pro - easy-to-use video conversion software inculdes 100+ formats and devices are supported
WonderFox DVD Ripper - A professional dvd ripping tool, bypass encrypted DVD and region code, and convert DVD content to most video formats and handheld devices
Related External Resource
Special Offer: WonderFox DVD Video Converter
Want to enjoy a complete movie night with your family instead of waiting long time for conversion? WonderFox DVD Video Converter is the best choice, which provides one-stop total solution to Rip DVDs (Disney, Paramount, Sony Included), Convert videos, Download online videos, Edit and Play movies/video with excellent performance.