2015 Best Smartphones - All Come with High Resolutions
Puzzles on Picking A Smartphone in The Year of 2015:
I want to buy a smartphone, which is the best device among 2015 best smartphones?
Which smartphone is the most friendly & multifunctional one that is worthy of purchasing? I want to feel totally different and get wonderful smartphone experience this time.
I want to pick a smartphone which is bigger than 5 inch, the present images mustn't be blocky.
A Sincere Suggestion:
No matter what ideal smartphone you have in mind, you'd better not just look at its price, instead you can have a look at its screen size and resolution. The user experience and user satisfaction rely deeply on the two above parameters. Official datum speak louder than any single answers.
2015 Best Smartphones from Official Datum:
The best smartphone top list of 2015 is a hot piece of breaking news, which is worthy of your reading and reference. Lately, 2015 best smartphone lists made from different respected research groups have just been published in serial:
According to IDC survey, the best smartphone brands of 2015 are Samsung, Apple, Lenovo, Huawei successively. Just like we are expecting ahead, Samsung and Apple stand out in high favor with a domination of 24.6% & 18.3% share of global smartphone market respectively.
Another figure based on American Customer Satisfaction Index study, shows that Samsung's 5.7-inch Galaxy Note 4 ranks 1st with 0.86 ACSI satisfactory score. As for the 2nd Spot winners of the year are Samsung Galaxy Note 3, Apple iPhone 6 Plus (5.5"), Samsung Galaxy S5 (5.1") and the iPhone 6 (4.7") with a same score of 0.82. For BlackBerry, its customer satisfactory index lists No.4 on the list.
With above datum, you find it's not hard to detect the fact that 2015 best smartphone all come with larger screen size and higher screen resolution, allowing you to enjoy the beauty of the origin videos or pictures. A larger screen with a higher resolution on smartphone keeps less or no quality loss in the original picture presentation. It is the pursuit of the best smartphone vendors, because of that, you can set your mind at ease when enjoying the HD home theater video on your smartphone. A big factor makes the video worth being watched is the visual shock of the original video.
Maximize Visual Experience of Watching DVD on 2015 Best Smartphone:
For movie likers and DVD collectors, watching DVD Video on smartphone is a thing you will do. Also ripping DVDs to smartphone can greatly protect your brought DVDs from being scratching. Since everytime you load DVD, the DVD-ROM will scan to read the DVD file with the laser, which will be harmful to your DVDs. WonderFox DVD Ripper Pro can help you with it, supporting all 2015 best smartphones, and its output video will keep the original quality. It's the best ripper for all 2015 best smartphones.
How to Put Your Favorite DVDs to Your Smartphone?
Take the 2015 biggest winner - Samsung's 5.7-inch Galaxy Note 4 as an example.
NOTE: 200+ formats and devices are also supported, including all Apple devices, Samsung devices, HTC devices and other devices, HD AVI, HD MP4, HD MOV, FLV, HD WMV, AVI, MP4, VOB, MKV, WMV, MPEG, H264, HEVC(H265), VP9, WEBM and etc.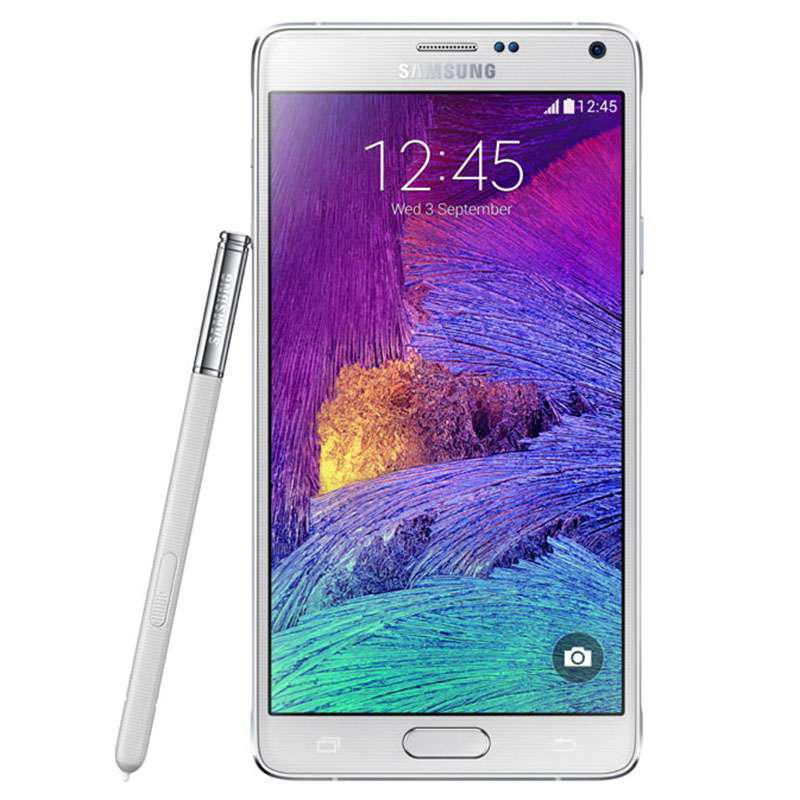 Firstly,



Download, install and run WonderFox DVD Ripper Pro, insert DVD, after loading, choose [DVD Disc], the software will help you with the rest works.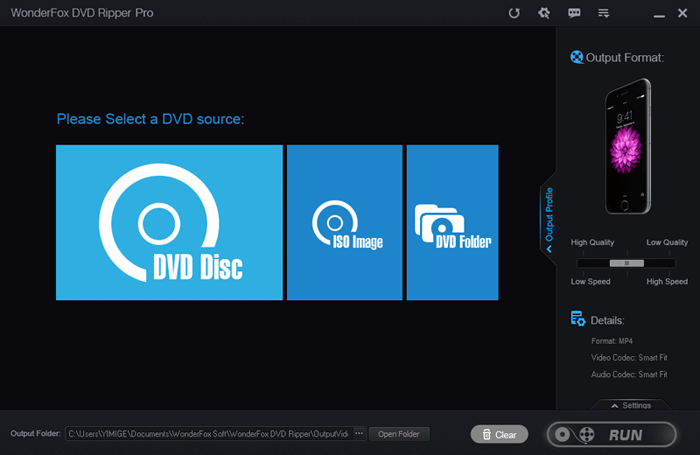 Secondly,
Click right top [Output Format], find [Samsung], [Galaxy Note 4].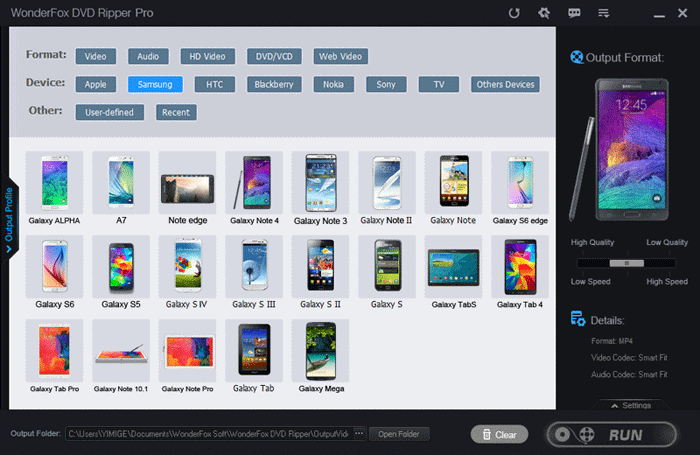 Thirdly,
Click right bottom [RUN], it will run on its own. Copy the output file to your Samsung Galaxy Note 4, then all done.
The web page to get WonderFox DVD Ripper Pro: https://www.videoconverterfactory.com/dvd-ripper/
You can have a free try on it and see if it's really good.
One powerful tool, one perfect multimedia solution, creates the best movie time to enjoy.
A Video Tutorial about Ripping The Hunger Games Catching Fire Movie to MP4:
We've prepared a video tutorial for apple users, within 3 minutes you will be a master of the powerful ripper, learning how to rip to mp4.
Related Resource
Related Software (Time-limited Offer Today)
Special Offer: WonderFox DVD Ripper Pro
Convert DVD to smartphones and over 200 portable devices. 10-Minute rip a DVD to AVI, MP4, MPG, WMV, iPad, iPhone, Android with 0-Quality-Loss.