How to Convert Video to HTML5 Formats
I've Seen the Future. It's in My Browse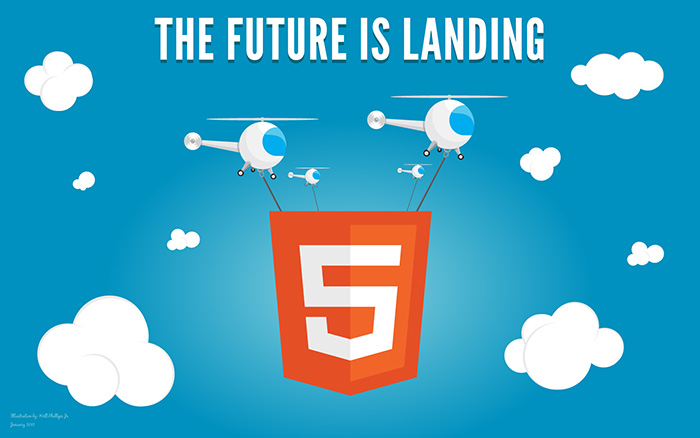 Early in 2010, Steve Jobs, then CEO of Apple Inc., addressed Apple users in an article titled "Thoughts on Flash" that as HTML5 developed, Adobe Flash would no longer be a necessity when watching video, or other contents, instead, the future of the web is in HTML5. These statements promoted HTML5 as the talk of mainstream media of the time. Over the past 5 years, the development of HTML5 was inexorable by keeping improving itself. HTML5 brings meaningful changes to the Internet and opens new amazing possibilities.
What is HTML5?
HTML5 might be still quite strange to you, although perhaps you are exposed every day to it when surfing the Internet.  So, what exactly stands behind this peculiar word? Passage below is the interpretation of the term HTML5 from Wikipedia: "HTML5 is a core technology markup language of the Internet used for structuring and presenting content for the World Wide Web. As of October 2014 this is the final and complete fifth revision of the HTML standard of the World Wide Web Consortium (W3C). Its core aims have been to improve the language with support for the latest multimedia while keeping it easily readable by humans and consistently understood by computers and devices (web browsers, parsers, etc.)." (Click to view full content)
Playing Videos in HTML5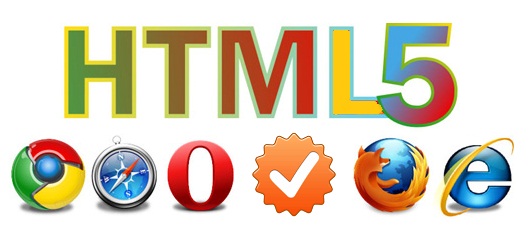 HTML5 is now available on a multitude of platforms and browsers. Internet Explorer 9+, Firefox, Opera, Chrome and Safari all support the web standard. If a webpage uses HTML5 standard, it will run faster; it will reduce the HTML5 document size properly; and it will bring a cleaner user experience.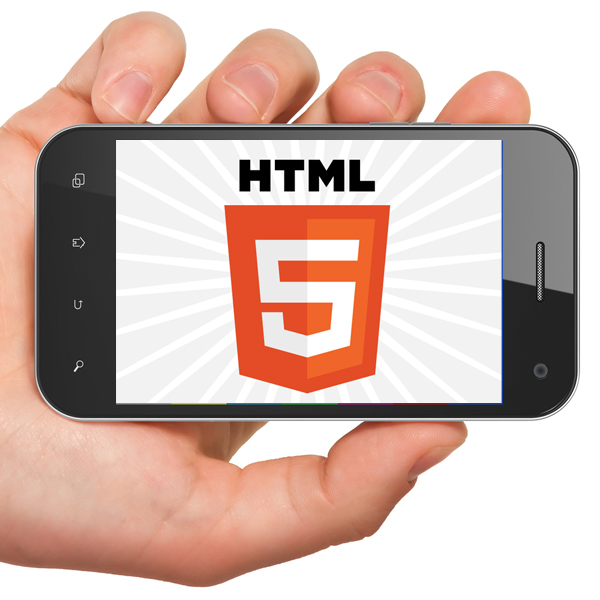 Before HTML5, there was no standard for showing videos on a webpage. Before HTML5, videos could only be played with a plugin (like flash). Currently, there are 3 supported video formats for the <video> element: MP4, WebM, and OGV.
MP4 = H.264 video coding + AAC audio coding
WebM = VP8 video coding + OGG Vorbis audio coding
OGV = OGG Theora video coding + OGG Vorbis audio coding
How to Convert Video to HTML5 Formats
A fast - growing websites, videos, and applications today are created with HTML5. To make your video played on HTML5 web pages, you have to convert the video to the formats that HTML5 supports.

HD Video Converter Factory Pro
It helps every user solve format compatibility problems for up to 300 gadgets. It ensures original quality being preserved.
More features >
WonderFox HD Video Converter Factory Pro provides a straightforward and powerful way to convert whatever video to HTML5 formats. The HD HTML5 video converter itself supports two of the HTML5 video formats: MP4 and WebM.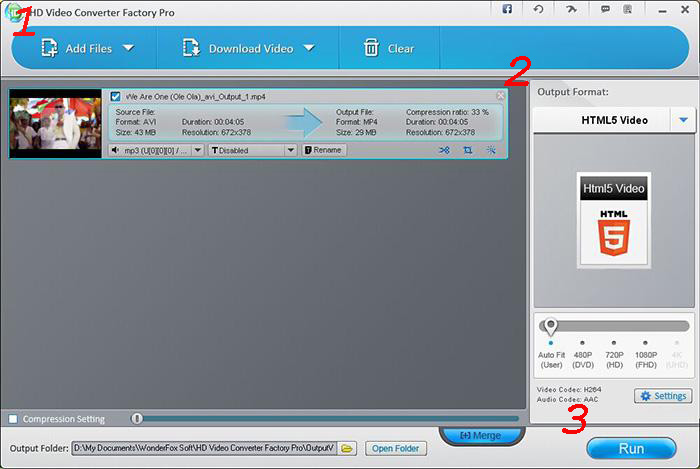 1 Add Files
Using batch conversion mode, you can import several video files to the HD HTML5 video converter through "Add Files" icon or drag video(s) to the grey zone, and convert the videos simultaneously.
2 Choose Output Format
Click the down arrow below the "Output Format" button to pick out the "HTML5 Video" option under "Web" category. The default format of "HTML5 Video" is MP4. If you prefer other HTML5 video formats, you can also choose "WEBM" belonged to "Video" category. Optionally, click "Settings" to free adjust video parameters like encoder, resolution, bitrate, frame rate or sample rate. Of course, it is recommended to keep the smart fit.
3 Run HTML5 Video Conversion
If you get the settings ready, just press the "Run" button and the output HTML5 video file in MP4 format will be exported in the shortest time.
Besides a HTML5 video converter, WonderFox HD Video Converter Factory Pro is also a HD HTML5 video player. You might have noticed the "Download Video" icon. Yes, you can download whatever HD or Ultra HD videos online by the software.
Free download WonderFox HD Video Converter Factory Pro now. And you are warmly welcome to contact us.
Still have questions about the WonderShare Video Converter Ultimate alternative or how to convert video files to any other formats? Please feel free to Email Us >>
Related Resource
Related Software
HD Video Converter Factory Pro: Convert HD video to 150+ video formats and mobile devices; Compress larger-size video to small-size video without quality loss; Up to 50X faster conversion speed among AVI, MP4, MKV, MOV, M4V. << Free Download >>
Time-limited Offer Today
Special Offer: WonderFox HD Video Converter Factory Pro
Convert HD video to 150+ video formats and mobile devices - 50X Faster conversion speed with 0-Quality-Loss.
HD Video Converter Factory Pro is equipped with advanced High-Definition (HD) video conversion technology. It can help users convert videos from Standard-Definition (SD) to High-Definition (HD) like HD MP4, HD MKV, HD AVI, HD MTS, HD TRP, even 4k standard and also enables users to cut down the video size (convert HD videos to SD videos).
Join the Disscussion on HTML5 Video