1. Switch Firefox to safe mode
Firefox safe mode is a special Firefox mode that can be used for tackling issues caused by some extensions, hardware acceleration, and parts of other features. In some cases, it works for the YouTube Firefox problem. To use this safe mode, click on the Open menu button at the top right corner on your browser, then select Help > Restart with Add-ons disabled. A dialog pops up, hit Restart and Start in Safe Mode.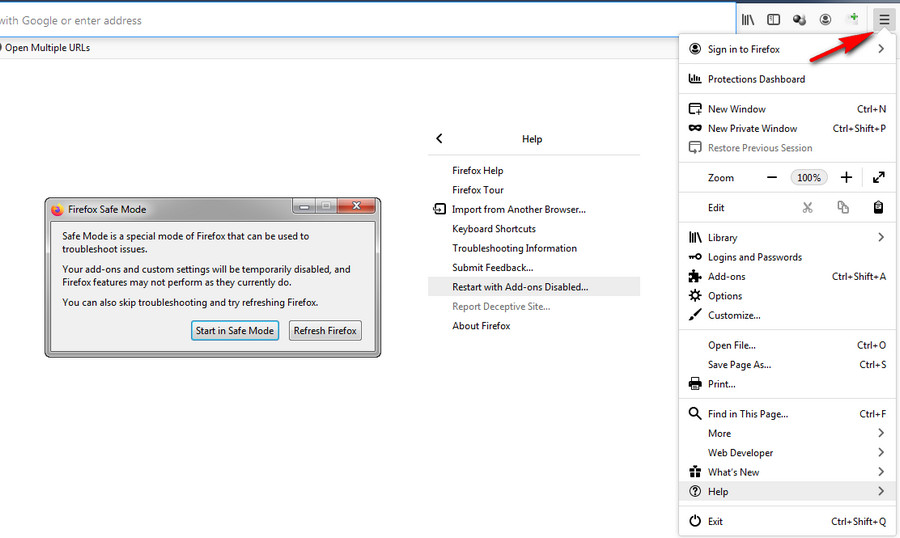 If you want to play YouTube videos under the Firefox normal mode or the method doesn't come into it, try the following methods.
2. Disable add-ons that cause the playback failure
Specific add-ons would stop YouTube video playback or cause Firefox YouTube not working issues, such as YouTube full screen not working and YouTube freezing. You can manually disable one of the add-ons, and check whether you can play YouTube videos, then disable the next add-on, and check it again. Repeat the procedure until you find the one causing the YouTube not working on Firefox issue.
Follow the steps to disable an add-on on Firefox: Click Open menu > Add-ons > Extensions, click the blue button next to an extension. The button becomes grey and you have disabled it successfully.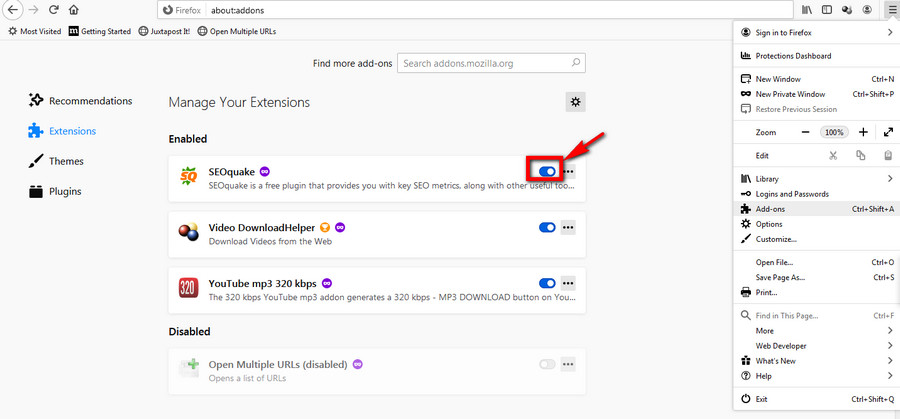 3. Clear cookies, caches, and histories on Firefox
After you have used Firefox for a long time, the cookies and caches may get overloaded, which can cause various issues for loading a page. Thus, you can clean cookies, caches, and histories on your browser when encountering the problem that Firefox won't play YouTube videos.
Go to Open menu, select Options, head to Privacy & Security, scroll down and locate to Cookies and Site Data and History sections where you will find the corresponding clear buttons.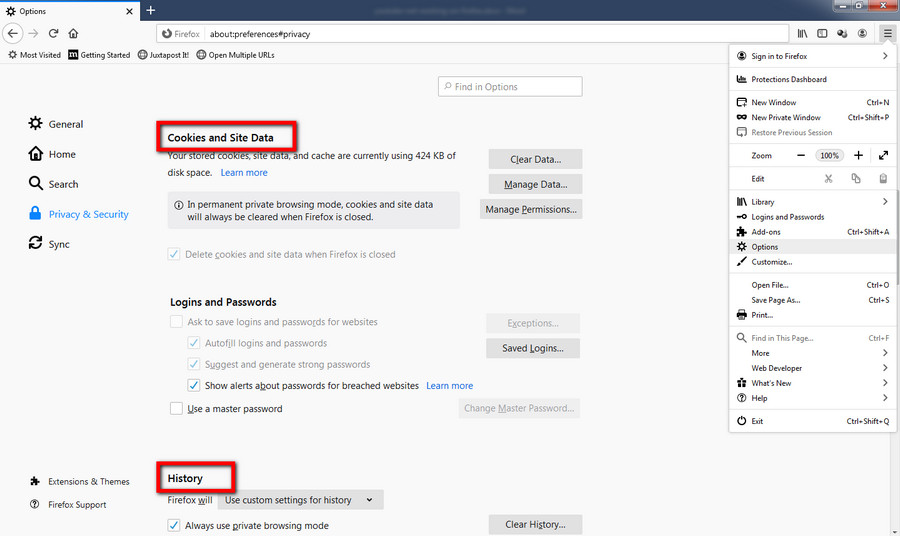 4. Disable hardware acceleration on Firefox
It's a well-tried solution to this problem. To turn off the feature, go to Open Menu > Options. Under the General tab, scroll down and find Performance. Uncheck Use recommended performance settings, then continue to uncheck Use hardware acceleration when available. Restart Firefox and open the previous YouTube video to see whether the YouTube not playing on Firefox issue disappears.

5. Refresh Firefox
You may try the Refresh Firefox feature to fix Firefox not playing YouTube videos, as well, which will remove all your add-ons and customizations, and restore your Firefox profile to the factory default state while keeping necessary data. The feature can be activated by following the same steps as you use safe mode. Or you can go to Open menu > Help > Troubleshooting Information > Refresh Firefox.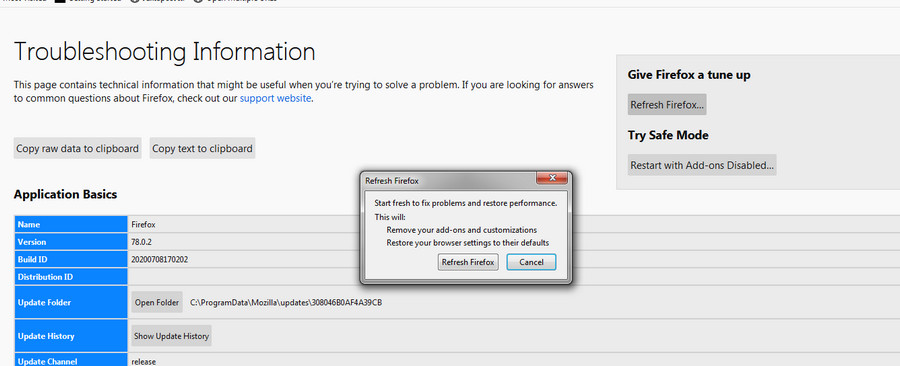 6. Make sure you're using the latest Firefox Version
Old browser versions may not adapt to the YouTube new standards. For example, YouTube now wholly adopts HTML5 videos. For accessing all YouTube new features, please make sure you're using the latest Firefox browser.
Open the menu on the top right corner, select Help > About Firefox. The About Mozilla Firefox window opens and it will check for the latest version and download it automatically. When the update finishes, restart Firefox and open YouTube videos.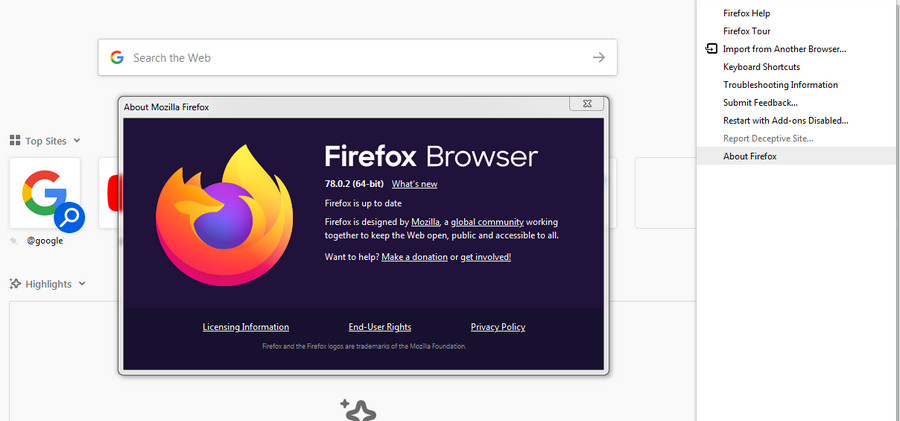 7. Downgrade Firefox if you encounter the issue after update
Some users have met the YouTube videos not loading Firefox issue after they have the browser upgraded to the latest version. If you happen to be in the same circumstance, downgrading to the previous old version may take you out of the hassle. Although Firefox doesn't recommend downgrading and using old versions, there still has a good way to go. The Mozilla FTP server stores all previous versions of Firefox: http://ftp.mozilla.org/pub/firefox/releases/
You can find and download the installer of the Firefox version you need therein.  
8. Allow Autoplay on Firefox
During YouTube video playback, if you run into the YouTube not working on Firefox error, you may also allow Autoplay on Firefox. Just click the lock icon on the top address bar, hit Show connection details option that is an arrow-pointing-right icon, then click More information. Under the Permission panel, find Autoplay, uncheck Use Default, then select Allow Video and Audio.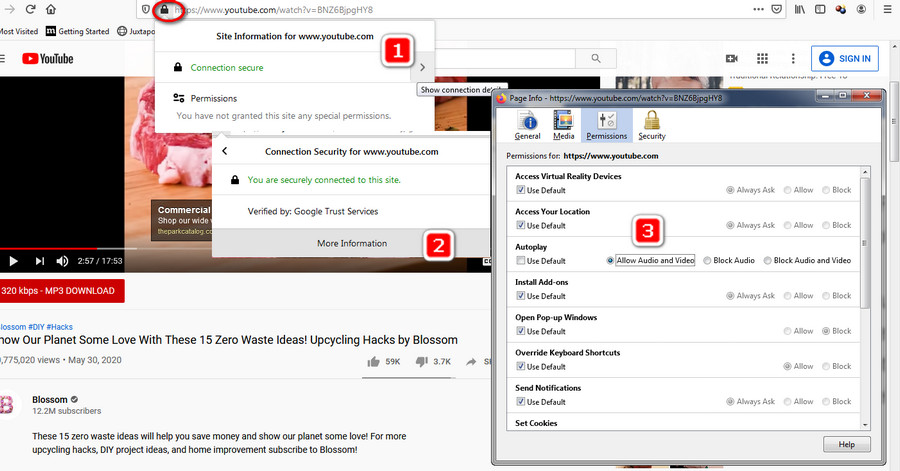 9. Close security software
Some security software may block Firefox from opening specific websites or cause crashing on Firefox. You can try to close them and open YouTube on Firefox again. If this method works, remove Firefox from the list of the allowed or trusted programs in the security software. The whole thing should back to normal.