About Registration
The following questions regarding registration maybe concerned about by most users.
* What will I benefit if I purchase your products?
* How to register your DVD Ripper? 
* Sales FAQ
* If I still have questions on registration, how to get the Support?
What will I benefit if I purchase your products?
1. You will get the full version of our software (unregistered version can just only rip 5 minutes of the DVD content).
2. FREE lifetime technical support and after-sale service via e-mail, and guaranteed reply within 24 hours.
3. FREE lifetime update to latest version.
4. Get discount for purchasing other products.
How to register your product?
1. Please find the License Code in the email delivered to you after placing the order (by purchasing the software we will send you the license code via email).
2. Run the WonderFox DVD Ripper, and register it with your license code.

3. Input your license code into the activation windows, carefully (Tips: since the license code is letter-sensitive, please COPY and PASTE the code. And don't add any blank before or after it).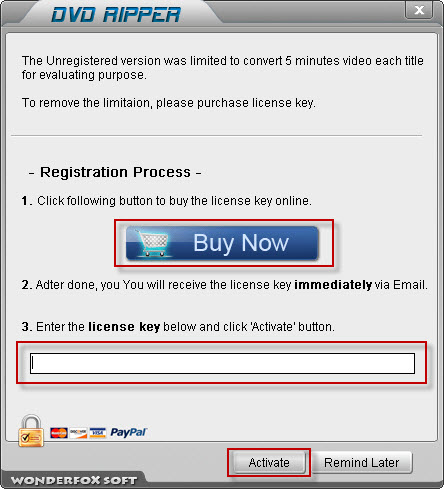 4. By activating successfully, you've already registered the software.
Sales FAQ
1. When and how can I get WonderFox DVD Ripper if I order it?
Once you complete the online order, you were supposed to receive an email with the order information and license code from us. Please allow a few minutes for the auto-generated license message to reach your inbox. Check the spam folder if you could not find the license retrieval email.

2. I didn't receive the license code for several hours after my purchase. Why?
The possible reasons might be:
1. Due to your email setting, the letter with license code went to Trash directly. Please check the folder there.
2. You provided invalid email address when you ordered the software.
3. Your email service provider rejects emails from unknown senders.

4. What if I lost the license code?
If you lost your license code, please do not worry and feel free to contact us to request your original license. Please provide us with detailed information about your purchase, such as order ID, email address, user name, etc. and by checking such info, we will resend you the license code.

5. What is your upgrade policy? Is it free?
We offer FREE lifetime upgrade service for our registered users. You could enjoy any upgrade, major or minor, without any fee involved after you purchased our software.
If I still have questions on registration, how to get the Support?
If you still have problems on registration, please feel free to contact us to order@videoconverterfactory.com or support@videoconverterfactory.com. Our sales support team will reply to you within 24 hours.