Free FLV to MP4 Converter - Focus on Your Portable Devices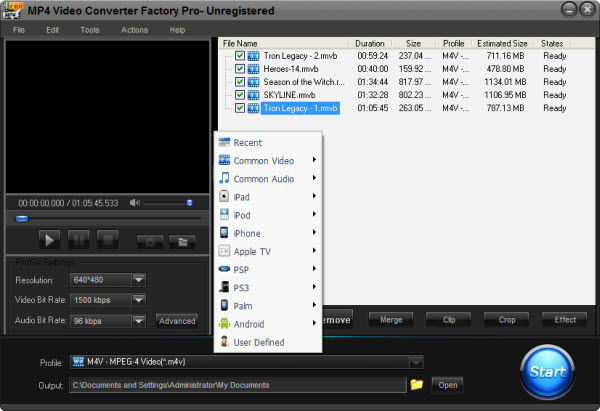 What are FLV and MP4
FLV: FLV, or Flash video, is a format used to play video and animation online. It originated with Macromedia Flash software, which was acquired by Adobe. FLV files can be played in a web browser or in a standalone media player. FLV's main advantages are its popularity, its ability to create small but high-quality files, and its flexibility.
However, there are still some disadvantages of FLV, FLV files include: Flash content creation can be time consuming and often expensive; They do not help in site optimization; Dial up connection users may experience a long waiting time; Common portable devices like mobile phones can not support this video format
MP4: MP4 is an abbreviation for Moving Picture Expert Group-4. First published in 1998, MPEG-4 or MP4 was designed to encompass all the features that were part of earlier releases of MPEG files, and add a few more that would prove helpful with the advancing online technology of the day. As a standardized group of video and perceptual coding formats, MP in general quickly became a hit with the average Internet user. The introduction of MP4 made it possible for the audience to continue growing by providing quicker, faster, and higher quality broadcast media for the average user. MP4 is a widely used in various area, especially by the portable devices, some people even said that MP4 is born for portable devices. With the widely use of MP4, it has become one of the most famous video format in the world.
Why Free FLV to MP4 Converter Helps You Ask for More of Your Portable Devices
With the development of the technology, internet has played a important role in our lives, you can find various resources on the internet, including the video and movie resources, as we know, FLV is mainly used by the popular video sharing websites, so we can see FLV is as popular as the internet and you can find various videos or movies in the format of FLV. However, some people may ask if I want to watch my favorite video or movie that are from the internet and in the format of FLV on my mobile phone or other portable devices, Can it work? The answer is probably NO! Because nearly all the portable devices can not support the format FLV. Luckily, here comes Free FLV to MP4 converter, which can help us solve the problem, with it, your portable device will become more powerful, you do not have to worry about the limitation of the video format.
With a free FLV to MP4 converter, you just like get a portable YouTube, that's why it will help you ask for more of your portable devices.
The Way to Choose a Suitable Free FLV to MP4 Converter
As we can see there are many kinds of related video converters, how to choose the suitable one is a question that we need to solve. Here are some factors we should consider when choosing this kind of video converter. We have to consider that, whether the converter is easy to use, whether it provides fast converting speed and high quality, whether it supports updating.
These are mainly what we should consider, we should choose a free FLV to MP4 converter that is just meet your needs. Here I suggest Free MP4 Video Converter Factory, it is just designed for converting MP4 format, it also supports converting all import video format including FLV. It is a 100% free video converter but with user - friendly interface, fast converting speed and high quality, what's more, as a good video converter, it obviously supports updating. You will enjoy more with Free MP4 Video Converter Factory.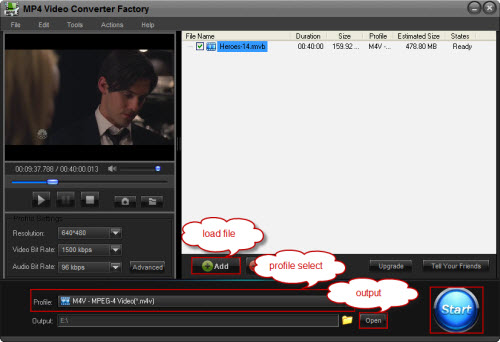 How to Convert FLV to MP4 with the MP4 Video Converter: 1. Download and install the software > 2. Click "Add" to import videos > 3. Select output format in "Profile" setting > 4. Click "Start" to begin converting process > 5. Open output profile to get the output video
Screenshot of Free MP4 Video Converter