Upload Video to YouTube Problems
When we record or shot some videos with Apple series product, camera, camcorder and some smart phone, the output video is mostly saved as MOV and AVCHD files. Sounds totally OK, however, things get cranky when we want to upload them to YouTube.
Have you met something similar shown below:
Q: The web page just says "video has failed to process" when I upload MOV to YouTube and I changed video format to mp4 but still not works.
Q: After uploaded QuickTime video to YouTube, the sharpness and color balance of original video are kinds of bad, IDK, why?
Q: I want to upload video to YouTube from my cell phone through cloud services directly, but instead, message 'the videos cannot be uploaded from cloud services' shows up, what happened?
Q: Never thought upload AVCHD video to YouTube could be this hard, I want to keep the high definition video image and broadcast it in YouTube, should I need to convert MTS video or not? I really need a tool to help me.
Reasons for we can't upload video to YouTube are so many, but sums up, the main factors are video format, resolution, duration, file size, bit-rate, frame rate. If you want to solve this problem, here are some useful information might help you out.
Tips about Best Format for YouTube and Recommend Settings for Your MOV Video
Although YouTube supports many common video formats like MOV, 3GPP, MPEG-4 (.mp4), FLV, AVI, MPEG (.mpg), WMV and WebM, but we still found it won't recognize MOV or MTS files we uploaded sometime, just like the Samsung officially supports MKV but it's still a headache to play MKV on Samsung TV. For example, Your MOV video should contain H.264 and AAC audio codec to meet every requirement that YouTube requires.
YouTube has time limit for video, up to 15 minutes. So, you may cut video clip before uploading. Some video size might too big to use due to only 2 GB file is supported by YouTube, to reduce video file size could be a good choice. The last important thing is the aspect ratio, sometimes YouTube will make your video to 16:9 or add vertical black bars (I believe you've seen this a lot), so you probably need to change video aspect ratio.
So, based on information mentioned above, one easy way to upload MOV to YouTube or upload MTS to YouTube effortlessly is to convert video into YouTube compatible format, like H.264 MP4. Then, you might search for some tool like "free video to YouTube converter" or "free video converter" on your search engine. And to minimize YouTube video with quality remained would be best.
But software like video to YouTube uploader which only can handle with problems like "can't upload video to YouTube" is not enough these days, I believe one much powerful tool shall be used, that's why the Free HD Video Converter Factory is needed.
How to Upload Video to YouTube without Any Trouble
I believe everyone wants to solve all kinds of annoying problems during this process in the fastest way. Of course you can, with the Free HD Video Converter Factory, you can easily manage your QuickTime video to YouTube only in 3 steps.
Before start this process, you can download this free video to YouTube converter on your computer, install and open it now.

Free HD Video Converter Factory
With Free Video Converter Factory, you can easily upload video to Youtube, Facebook, Vimeo and other sites without any quality loss. This tool is perfect choice for video/audio conversion and management. Learn more >
Step 1 Add Videos
You can press the "Add Video" button or drag your MOV or AVCHD videos to this tool after the main interface shows up.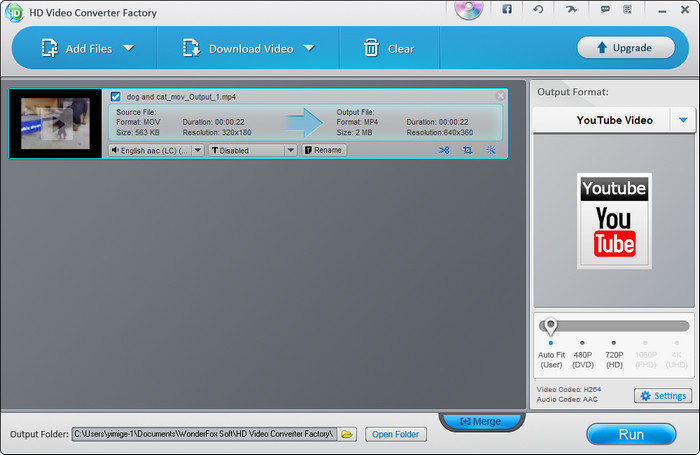 Freely add or remove your videos
Step 2 Choose Output Format
Click "Output Format" option on the right side of the main interface.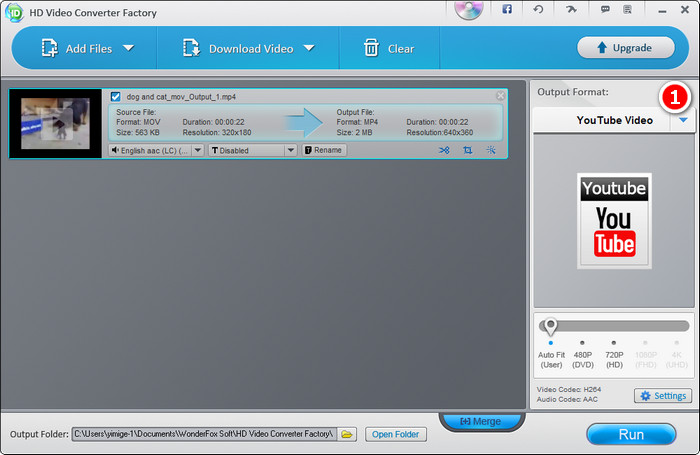 Follow instruction above
A format list interface shows up, now click the "Web" item and choose "YouTube Video".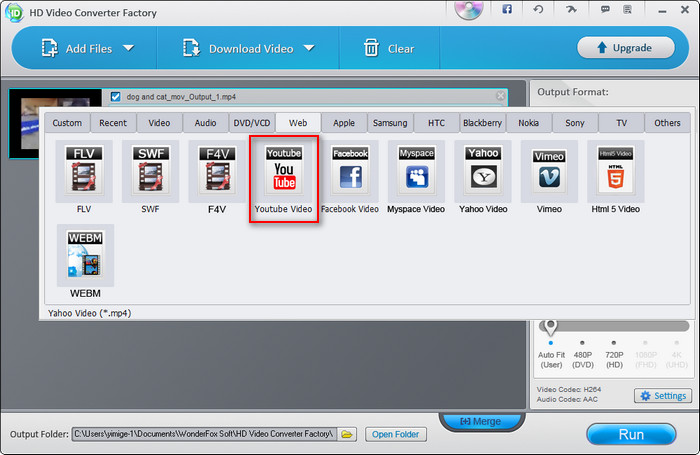 Various web video format for users
Note: To upload MOV to YouTube and share with friends isn't enough; in fact, you can also use this tool to download video from YouTube too! With fast speed and simple operation, you can download UHD video or get 360 degree video easily. More features of supported web video format includes html5 video, Facebook, Yahoo etc.
Step 3 Start the Conversion Process
Now, click the blue "Run" button and start to upload video to YouTube.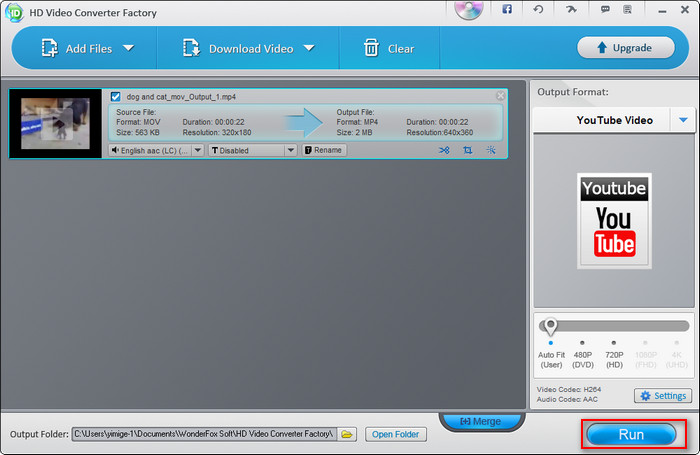 The conversion time is based on video size and duration
Note: if you have many lovely videos and want to convert them all to video format or video size supported by YouTube simultaneously, then the HD Video Converter Factory Pro is the right choice for you. If you have any needs for upload DVD to YouTube, try DVD Video Converter.
Now the whole process is done! Just click "Open Folder" to find your video and ready to uploading MOV to YouTube. But this tool is more than a free video to YouTube converter, it can help you solve video problem like audio out of sync before uploading and help you with certain video format, like convert WLMP to video or you have found some tutorial of editing YouTube videos, this tool can help you download YouTube subtitles just in few minutes!
Still got question? Submit it to us and get answer within 24 hours.