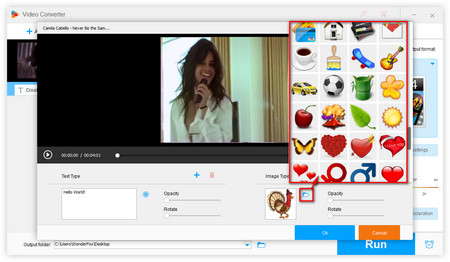 Photography Watermark
Similar to text watermark, image watermark is also a common way to protect videos. Compared with text watermark, image watermark is more lively.
There are two kinds of image watermarks.
The first is the default image, which already imports over 100 images for you to choose from.
The second is to load external images. This means you can choose any image you want to use as a video watermark. The following image formats can be supported:
.gif;* .jpg;* .pax;* .bmp;* .ico;* .cur;*.png;* .dcm;*.wmf;* .emf;* .tga;* .pxm;* .wbmp;* .jp2;* .j2k;* .dox;* .crw;* .psd;* .iev;*
It should be noted that PNG, ICC and TGA diagrams with transparent channels are all supported. Dynamic images are also allowed to be loaded into the program.