Total Solution to Get a Copy of DVD 12 Years a Slave
Copy and rip DVD 12 Years a Slave to AVI, MP4, MOV, FLV, etc or transfer Oscar DVDs to iPad, iPhone, Samsung TV, Apple TV, Kindle Fire, Nexus 7, Surface, Lumia 2520 for playback. Easily watch the new Best Picture Oscar winner on the go.
As the curtain comes down on the 86th Oscars, we've got the newly christened Best Picture Oscar winner – 12 Years a Slave. Well, maybe the winner isn't your pick, but no matter what your attitude is towards the result, 12 Years a Slave is undoubtedly one of the best 2013 films and deserves to win.
More about 12 Years a Slave - 12 Years a Slave Movie Review
In 86 years of Oscar history only two African-American directors have ever been nominated for an Oscar — John Singleton and Lee Daniels. 12 Years a Slave is the first film directed by a black person to win Best Picture. Steve McQueen is also the first black film-maker to win best director.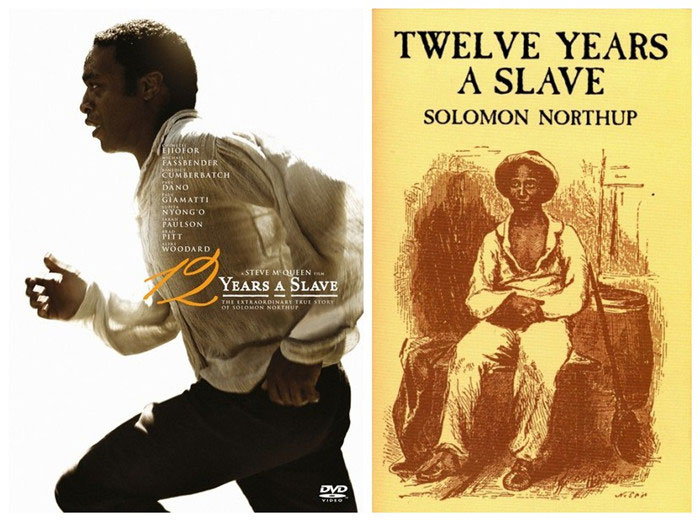 It is adapted from the 1853 memoir of the same name by Solomon Northup. Chiwetel Ejiofor stars as Solomon Northup, an educated and free black man living in New York who was kidnapped, shipped to the south, and sold into slavery, on a plantation in New Orleans in the 1800s. Facing cruelty, he also found unexpected kindnesses. Solomon struggles not only to survive, but to maintain his dignity. In the twelfth year of his unforgettable odyssey, Solomon's chance meeting with a Canadian abolitionist will forever alter his life. This film stars Michael Fassbender, Benedict Cumberbatch, Paul Giamatti, Brad Pitt. (If you're a fan of zombie movie or Brad Pitt, you may also like to watch World War Z on your portable devices.)
12 Years a Slave received positive comments from audiences, for its acting especially for Chiwetel Ejiofor, Michael Fassbender and Lupita Nyong'o as Patsey - Best Supporting Actress, screenplay, direction, production and costume design, etc.
Don't Miss the Best Way to Rip DVD 12 Years a Slave
Where is 12 years a slave playing? These days I found so many similar questions. There is good news for you: 12 years a slave DVD release came out and you can order now. But before getting your DVD disc, you need to accept some kind suggestions, whether you've already ordered the previous DVD or intend to.
It's nice to watch your favorite DVDs on the go, but it's a little difficult to enjoy the DVDs without limits. Even if you have purchased the DVD, you can't copy and rip DVD 12 Years a Slave to your portable devices because of the region code and encryption. So to help you solve such problem, I'd like to share you the most useful way to rip and copy DVD 12 Years a Slave or any other DVD from your collections with possibly the highest quality.
How to Rip DVD 12 Years a Slave without Quality Loss
All you need is a handy tool. That is WonderFox DVD Video Converter, which I've used for years and works great, always. It's not as same as common DVD Rippers. It enables me to enjoy more with my naughty kids and friends. I want to show you 4 simple steps.
First you're able to download it here.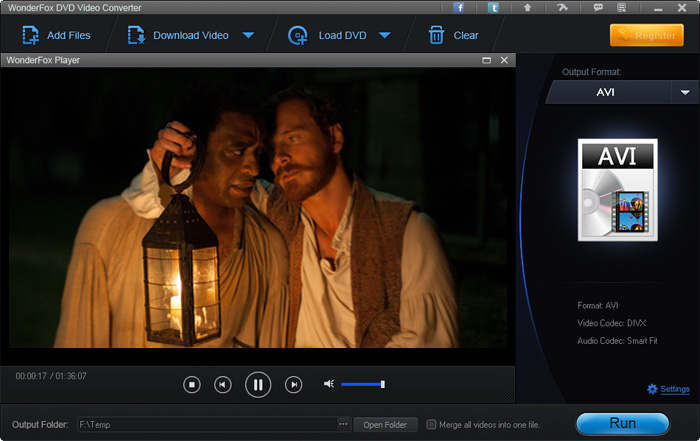 Step 1: Run DVD Video Converter and you can see its interface is in cool black. Three key features are displayed: Convert (drag-and-drop supported), Download and Rip.
Step 2: Click "Load DVD" button and select the right DVD drive letter. (If you want to rip DVD content from hard drive, you should first insert your DVD disc in DVD-ROM drive.)
Tip: This friendly converter can automatically indentify multiple drives including hard drives and virtual drives.
Step 3: After loading the wanted DVD content, you can now choose an output format or output device.
Tip: One of the most important factors is that the DVD converter has added optimized presets for nearly all common devices. So you don't have to know much knowledge about video and audio parameters. But for experienced users, you can also adjust the setting as you want.
Step 4: Set an output folder and then hit "Run" button. It will rip DVD 12 Years a Slave in the shortest time with excellent quality.

Still have trouble about backing up DVD? Please feel free to Email Us >>
You May Also Have Interested in Those Films on DVD:
The Wolf of Wall Street: Leonardo DiCaprio didn't win the Oscar, but in "Wolf of Wall Street", his performance is superb.
How to Rip Disney DVD: Instruction of how to rip all of Disney DVDs with WonderFox DVD Video Converter.
Frozen - Best Animated Feature Film: Frozen recalls the best of Disney's "princess" oriented movies, but this time it's 2 princesses' story.
Gravity - the Masterpiece of the Year, the biggest Winner: Gravity won seven awards and should be the biggest winner. If you missed it in the theatre, why not rip the DVD to big screen.
Rip DVD Thor The Dark World: Easily copy DVD Thor The Dark World and transfer it to anythere.
Backup DVD Godzilla (2014): Guide you backup DVD Godzilla without quality loss.
Rip DVD The Hobbit: The Desolation of Smaug: Let you to play The Hobbit: The Desolation of Smaug DVD on any devices like iPad Air, iPad mini2, Samsung GALAXY series, etc
Rip DVD Prisoners: This is one of the best films of 2013.If you try to rip DVD Prisoners, I'd like to share you the most professional solution.
Backup DVD The Amazing Spider-Man 2: rip the DVD to hard disk in three easy steps.
Rip DVD The Hunger Games Catching Fire: tell you how to rip or copy DVD The Hunger Games 2 with high quality
Backup DVD X-Men: Days of Future Past: Provides clear steps for you to rip DVD to your portable devices with easy-to-handle software in short time.
Related Software
WonderFox DVD Video Converter - all-in-one media solution includes DVD Backup, DVD Rip, Video and DVD Converter, Video Downloader, Video Editor/Player
WonderFox DVD Ripper - A professional dvd ripping tool, bypass any encrypted DVD and region code, and convert DVD content to most video formats and handheld devices
Related External Resource
Twelve Years a Slave Twelve Years a Slave (1853) is a memoir and slave narrative by Solomon Northup, as told to and edited by David Wilson. Northup, a black man who was born free in New York, details his kidnapping in Washington, D.C. and subsequent sale into slavery.
Special Offer: WonderFox DVD Video Converter
Want to enjoy a complete movie night with your family instead of waiting long time for conversion? WonderFox DVD Video Converter is the best choice, which provides one-stop total solution to Rip DVDs (Disney, Paramount, Sony Included), Convert videos, Download online videos, Edit and Play movies/video with excellent performance.