We're not talking about the largest annual electronic music festival in Belgium here; we're talking about the 2015 science fiction movie. Tomorrowland (titled Disney Tomorrowland: A World Beyond in the United Kingdom) is a 2015 American science fiction adventure film directed by the two-time Oscar winner Brad Bird. The film stars George Clooney, Hugh Laurie, Britt Robertson, Raffey Cassidy, Thomas Robinson, Tim McGraw, Kathryn Hahn, and Keegan-Michael Key. The film tells the story of an uninspired former boy genius inventor and an optimistic young science - loving girl, who travel to an ambiguous dimension known as "Tomorrowland", where their actions directly affect the world.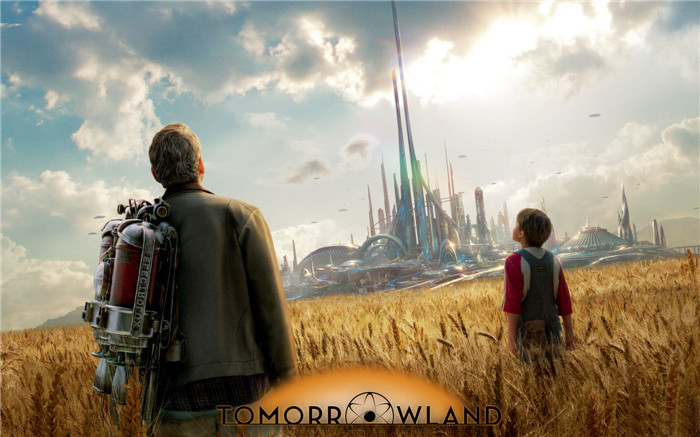 Featuring a screenplay by "Lost" writer and co-creator Damon Lindelof and Brad Bird, from a story by Lindelof & Bird & Jeff Jensen, "Tomorrowland" promises to take audiences on a thrill ride of nonstop adventures. Now let's listen to what the movie-goers are saying.
¡°Exhilarating on every level.¡±
¡°There is more than enough genuine wonder in Tomorrowland to justify your attention.¡±
¡°It's a hard heart that would resist Clooney's appeal to his audience to just -- for once -- be amazed.¡±
¡°This is not a film about technology being the final answer - this is a movie about humanity's continuing need for more questions.¡±
If you¡¯re a tech enthusiast or a sci-fi film follower, are you ready to experience the magic of tub-jet with Clooney? Also, the Tomorrowland movie 2015 is something you should be able to watch with your children. ¡°Be persistent. Don¡¯t give up. People, with destiny in their own hands, should be full of confidence in the bright future.¡± - It is what Tomorrowland movie 2015 wants to tell you. Tomorrowland DVD is expected to be released in September 2015. By that time, once you buy the Tomorrowland DVD, you can share the fascinating movie with your family and friends on the new Windows 10 computer, or mobile phone, or tablet. The only way you can really do that is to rip Tomorrowland DVD legally. You can rip Tomorrowland DVD and make a digital copy of it for backup purpose, and the premise is that it is legal for people to rip and copy DVD in your country or region. But as far as we know, at present, in the world majority countries and the area, backing up a DVD is permitted for private use.
Make a choice is always difficult. Select an appropriate software for Tomorrowland DVDrip is no exception. You should take various factors into account like ripping speed, software stability, price, output quality, security and usability. Based on the above reasons, we believe that WonderFox DVD Video Converter is the most appropriate software for Tomorrowland DVDrip. It helps you rip any protected DVDs including the latest DVD movies like Avengers: Age of Ultron, Fast & Furious 7, Cinderella, and Big Hero 6 as well as copy DVD to virtually any video format and device. Now let¡¯s look at how you can use the intelligent software and rip and copy Tomorrowland DVD safely, effectively, and effortlessly.
Download the software below
1. Install the DVD converter on your Windows 10 computer. Please be assured that this software fully supports Windows 10 OS. It also supports Win8.1, Win7, Vista, XP, etc.
2. Insert Tomorrowland DVD disc to the computer DVD-ROM drive and then click ¡°Load DVD¡±. Note that the main movie has been marked. But you are free to choose language and subtitle.
3. Open output format dropdown list on the right side of the main interface. Select one video format as output profile. It supports almost all major video formats such as AVI, MPG, MP4, WMV, MKV, MOV, M4V, ASF, 3GP, FLV, and more.
4. Click ¡°Run¡± to start to rip and copy DVD movie Tomorrowland to Windows 10. When the backup has finished, open it at once or check it in the target folder later.
A copy of Tomorrowland DVD will enable you to be in the mood for the Disney Tomorrowland movie 2015 without carrying the disc whenever and wherever.

How to backup DVD movie Kingsman: The Secret Service in the digital copy
Back up DVD Jurassic World (2015)
House of Cards new season 3 TV series DVD backup - to any format and device
Join the Disscussion on Tomorrowland 2015