How to Rip DVD Maleficent to Cell Phone
Movie Maleficent Information
Cast: Angelina Jolie, Elle Fanning, Sharlto Copley, Sam Riley
Directed By: Robert Stromberg
Written By: Linda Woolverton
Film distributor: Walt Disney Pictures
US Box Office: $200M
A Brief Introduction:
Disney 2014 summer blockbuster Maleficent is an adaptation of the original classic Disney animation "Sleeping Beauty". Maleficent intends to lead the audience to explore the untold past of this Disney's most iconic villain. In retaliation for her lover's betrayal, as well as driven by a fierce desire to protect the moors she presides, Maleficent cruelly places an irrevocable curse upon Princess Aurora. She will grow with the love by everyone, then fall in everlasting sleeping in her sixteen, unless she can get a kiss from her true love. However, as time goes by, the mother-daughter affection links Maleficent and the little princess subconsciously.
What is the True Love
Movie poster has marked with such a slogan "absolutely don't believe in the fairy tale". With full of expectation based on the original, we are really looking forward to the appearance of prince symbolizing the true love. Anticipation exists in the heart of all the girls, to wake up your heart, to love and to be loved, to wait for the heartfelt kiss from your prince. However, there is really not so-called "falling in love at first sight". "True love" needs to stand the test of time. In addition to the love between man and woman, true love also stands for the "familial affection ". Therefore, this time true love's kiss is not about love between man and woman, but the affection Marlene Phillip to Princess Aurora. What wakes the princess up is Marlene Phillip's affectionate kiss instead of the so called "true love's kiss" in the film.
Reviews for Maleficent
Imaginatively, it places all the known elements of the story in different contexts, completely recasting this familiar fairy tale into a more poignant and resonant work.
---By Louis Black, Austin Chronicle, June 5, 2014
A clever reinterpretation of the original story and a refreshing change from the good/evil dichotomy typical of fantasy screenplays. In this film a character is capable of both evil and good, and the causes for these actions are smartly revealed in the plot: love, betrayal, loss, anger, hatred, and kindness. Overall very enjoyable and my 11 year old daughter was equally delighted by this film.
---By ferdcrose, June 21, 2014
Have you been impressed by the great surprising changes of this movie already, and can't wait to feel all that this movie will give to you in the theater? If so, I believe that you may also have such idea of treasuring Maleficent after release of the DVD (the release date is said to be Oct. – Dec. 2014) so as to share it with your true lover on your DVD player or laptop. How about cell phone? More handy, right? Whenever you go, the movie is free to accompany you. Then how to rip DVD movie Maleficent to your cell phone? Absolutely a DVD ripper is not your second choice.
A Full Guide to Rip DVD Maleficent with WonderFox DVD Video Converter
First Please download WonderFox DVD Video Converter

Step 1 Load DVD Maleficent
Insert DVD Maleficent to the hard drive and then launch this program. Click the button "DVD Disc".
Step 2 Select Output Format
Select an output device. WonderFox DVD Video Converterprovides the best solution to rip DVD Maleficent to a wide range of mainstream portable devices such as DVD to iPhone 5S, DVD to Samsung, etc.
Step 3 Start Conversion
Click "Run" button to rip DVD movie Maleficent. The "Settings" button is provided for your higher demands on visual or auditory effects, such as encoder, resolution, bit rate, aspect ratio, etc.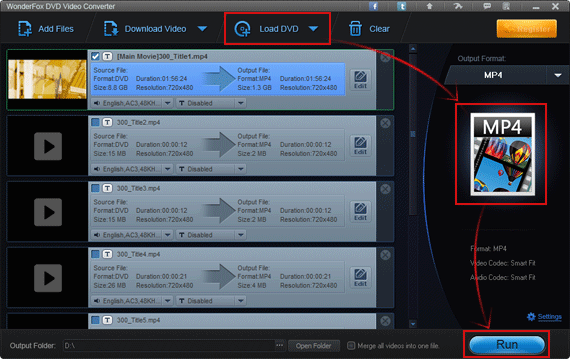 See specific conversion time below:
DVD to MPG (MPEG-2): 5~10 minutes
DVD to AVI (Divx): 25 minutes
DVD to MP4 (H264): 40 minutes
DVD to iPhone 5S: 20~40 minutes
DVD to Samsung Galaxy/Note: 20~40 minutes
What is your impression of after-watching? True love, family bond or something else, just share it with the one you love.
Have trouble on backup DVD Maleficent? Please send email to support@videoconverterfactory.com to get assistance.