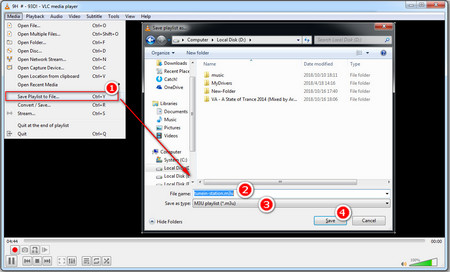 VLC PLS Conversion
If you don't install VLC media player, visit the link to download a compatible version: https://www.videolan.org/vlc/index.html
Step 1. Run VLC. Click on Media on menu bar, choose Open File and import PLS files.
Step 2. Click on Media on menu bar again and select Save Playlist to File. Or you can directly press Ctrl+L.
Step 3. Specify the output folder and file name. Choose .m3u from the Save as type drop-down list.
Step 4. Click on Save to finish the PLS to M3U conversion.
VLC media player also enables you to convert PLS to M3U8, convert PLS to XSPF, convert PLS to HTML playlist with the same steps.
Now you can try the methods above for opening PLS files. In summary, PLS is only a plain text file that references the locations of audio files so that a media player can queue up and play the audio files. There are plenty of PLS players that enable you to listen PLS, such as iTunes, VLC media player, Foobar2000, Windows Media Player with Open PLS in WMP and so forth. Besides, a free simple editor like Notepad can also open the text file. Since PLS file is not an actual media file, it cannot be converted to MP3 or MP4, but to similar audio playlist formats like M3U, M3U8, XSPF and WPL. Hope you get the gist of what is PLS file after you read this article.