Step 1. Download and install Chrome browser, if you haven't had it already. Click here to visit the official download source.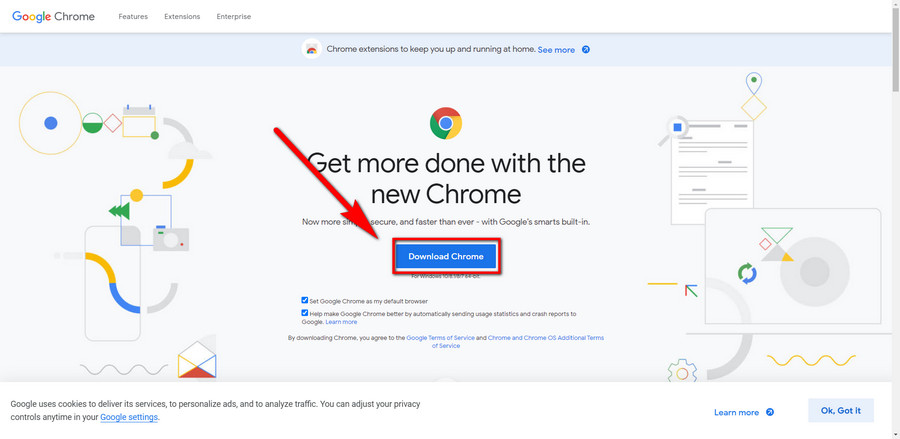 Step 2. Launch Chrome. Copy and paste the URL exactly: https://chrome.google.com/webstore in to the browser address bar and press Enter on your keyboard to visit Chrome Web Store. Or just click here.

Step 3. Copy and paste or type exactly Houseparty into the search bar on the upper-left side, and press Enter on your keyboard.

Step 4. The top search result pops up on the right side should be the Houseparty extension offered from houseparty.com. That's our extension, click the Add to Chrome button on it.

Step 5. Click Add extension in the pop-up dialog.

Step 6. After a few seconds, there'll be a notification message pop up on the upper-right side saying "Houseparty has been added to Chrome". That means Houseparty app extension is now installed on your Chrome browser. A yellow little palm icon should be generated which stands for Houseparty, you can click on it to use Houseparty, or right-click on it to hide it from Chrome menu or remove it.

Step 7. Anytime you want to locate your installed Houseparty extension, launch Chrome browser, click on the triple dots on the upper-right side > More tools > Extensions, it's on the extensions list.
Or just type in chrome://extensions/ to the Chrome address bar and hit Enter on keyboard.

Step 8. Now let's try Houseparty extension on Windows. Click on the yellow little palm icon, and log in with your account (sign up for one if you don't have one already), click the green GO ONLINE button to go to the main interface.

Step 9. A permission dialog will pop up on the upper-left side, you have to Allow the website to show notifications, use microphone and camera to continue.
You can always alter these settings later, from triple dots > Settings > Privacy and security > Site settings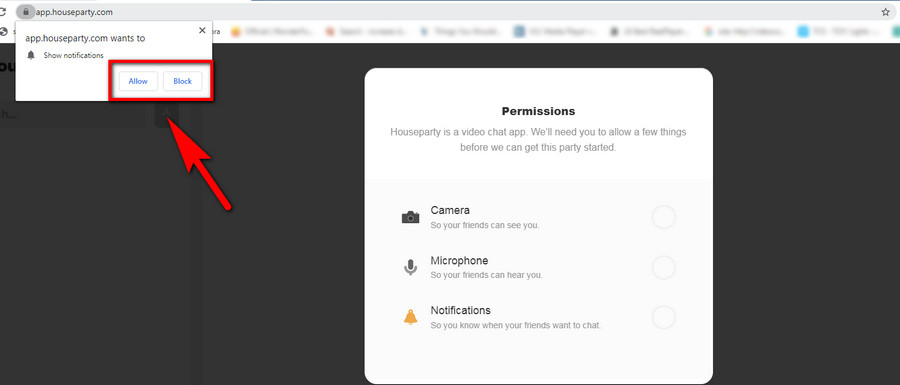 Step 10. The functions and option button layout are similar to Houseparty mobile app, you can find search for friends and copy your personal link on the left side, and the buttons to activate/deactivate camera, room lock, activate/deactivate mic are placed underneath.
Well, enjoy your chats!
- And keep your Chrome browser running while using Houseparty extension.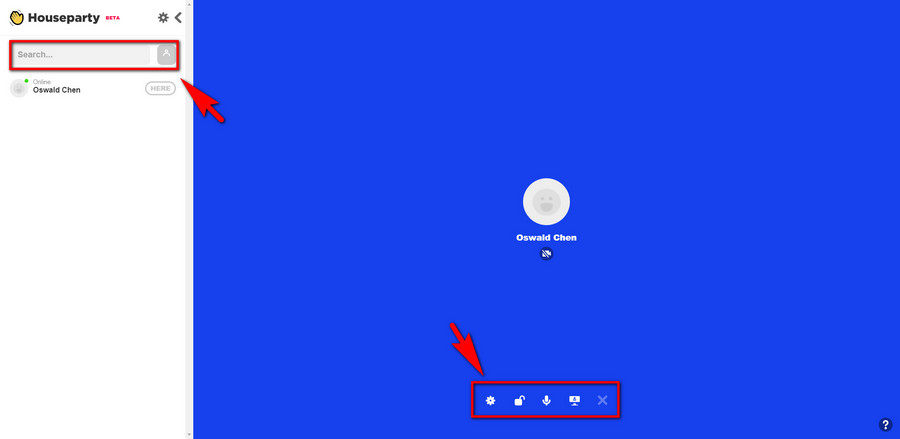 By the way, Houseparty browser extension supports to share screen as well, at it's more practical. Click on the Share Screen button underneath, select the share scheme and click Share, you get to share with your friends the entire screen you're currently looking at currently; applications on Windows like a game you're playing; or a Chrome tab that you're browsing.