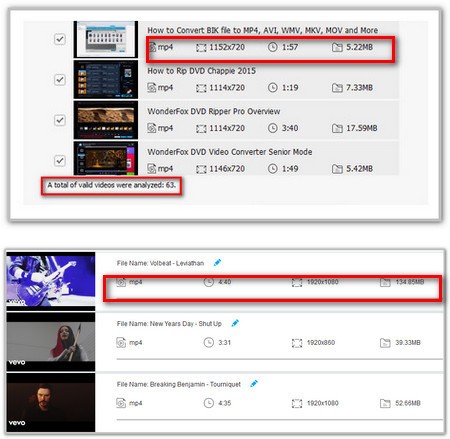 Two phases of video analyzing
The downloader proceeds in two phases when analyzing URLs of the channel or playlist.
During the first phase, it generally analyzes the title and the length of time of each video. The time spent in this phase depends on the number of videos in the channel/list as well as the network condition. According to our numerous tests, it takes one minute to analyze 100 or so videos meanwhile 3-4 minutes for 1000 videos with a stable network. Besides, you can click "Cancel" to stop analyzing the videos. You can still download the analyzed videos. After finishing the first phase you will see "Ok" button and you can click it to enter the downloading interface.
The second phase immediately continues after the first phase. And in this phase, the downloader will analyze the information of the videos including the thumbnails, format, resolution and file size.
Here I have to add that whether or not these data in second phase has been analyzed will never affect the downloading. The significance of this phase is to allow users to preview the information on these videos. It takes much time to waiting for the second phase. Therefore, you'd better directly click "Download All" to downloading the playlist or channel.