How to Download Killer Clown 5 from YouTube to iPhone 6 Plus
Killer Clown is back!!! After a long dormancy for 7 months, the psycho Killer Clown returns to spread the terror, with his uncle (first appearance in the Killer Clown 3) and a new creepy fellow clown!
Killer Clown series is produced by DmPranks, a very popular channel on YouTube, which has 3.3 million subscribers. Yes, they are successful, and it's all because of their awesome ideas, great effort filming, elaborate post-production and etc. From Zombie Axe, Flamethrower Psycho, Telekinetic Priest, Ferocious Mutant to Killer Clown 1-4, you will experience the EXTREME scare pranks from each video! Absolutely, DmPranks videos have become a hot topic on YouTube.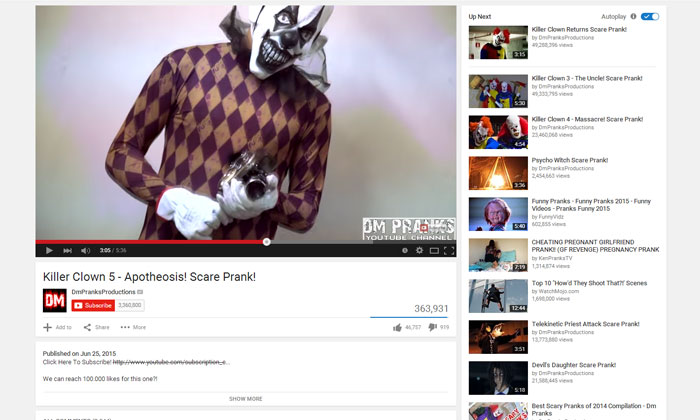 This episode 5 is named "Apotheosis!" and it has got more than 350 thousand views in just 12 hours. What an amazing performance of DmPranks! To shoot this video it took 25 days of shooting / editing, about 3 months of work total, the DmPranks guys got arrested 2 times and also got sued. At the end of episode 5, the clowns suffered with the bomb attack. Did they die or not from the explosion? We don't know the answer, maybe it would be the end of Killer Clown series. If you like the Killer Clown series, why don't you download and save your favorite scare prank shows to share with friends? Let's just do it. Here, I'll introduce a great all-in-one program to easily help us with downloading & converting video jobs or other requirements.
Tutorial to Download Killer Clown 5 from YouTube to iPhone 6 Plus
Before we start to download YouTube video , please make sure you've download and install WonderFox DVD Video Converter to your PC. After everything's well prepared, here we go!

We can clearly see all the options on the cool-black intuitive interface, presented as buttons. Here, I will show you to download Killer Clown 5 from YouTube and convert YouTube video to iPhone 6 Plus for instance.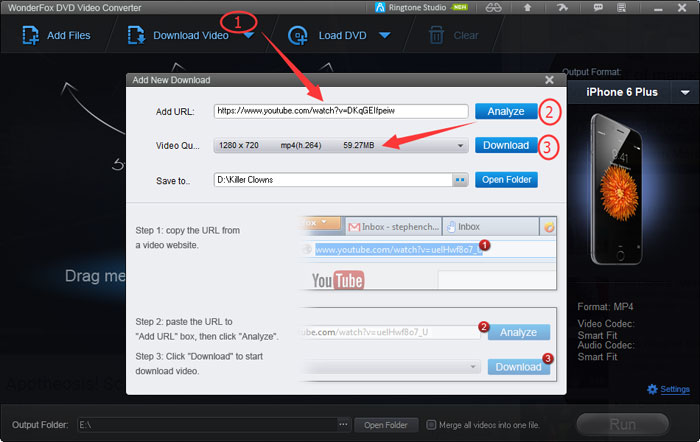 1. Click "Download Video" and copy-paste to add video URL.
2. Click "Analyze" to get the information of video content. Select the quality you need to download.
3. After a few minutes, you'll get the video downloaded in your desired quality!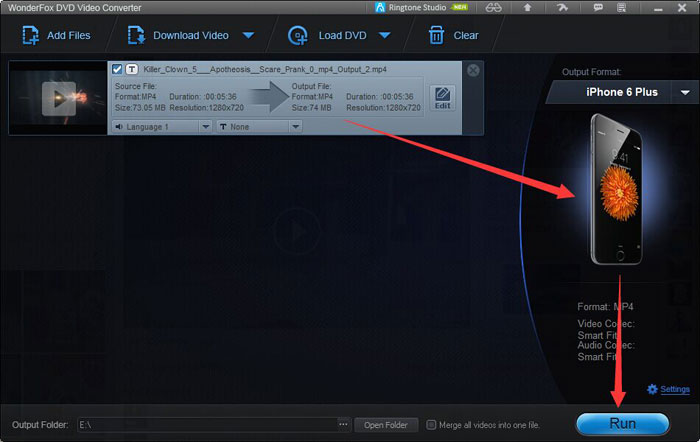 4. Your downloaded video is automatically added to the conversion list. Select iPhone 6 Plus as the output format, and then click "Run" to start the conversion.
5. The task will be completed in just a blink! Then we can copy the YouTube video to iPhone 6 Plus.
How to Combine Video Clips?
Bravo! But the video Killer Clown 5 is too short? Yeah, no problem, I got your feeling. You can also try to download Killer Clown series and merge videos together into a horror movie, feel the fear with your friends at once!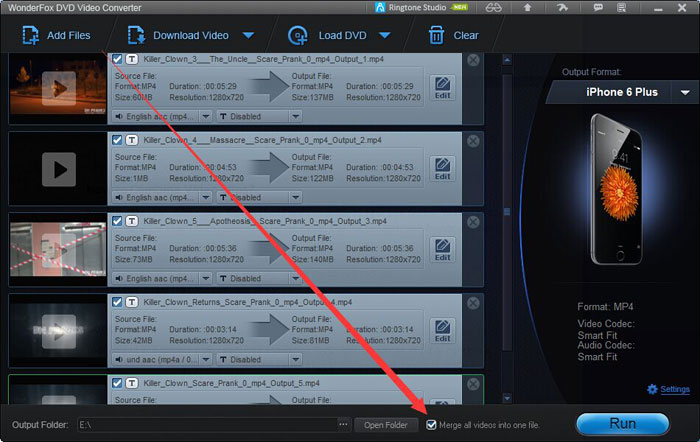 1. Add the video Killer Clown 1 - 5 to the list.
2. Check the box of "Merge all videos into one file" at the bottom tool bar.
3. Click "Run" to get the combined video file.
Conclusion:
To download and convert is very easy with WonderFox DVD Video Converter, as 1-2-3, right? As a powerful all-in-one program, you can also take advantage of this great software to rip DVD, compress video, make ringtone and etc. More features are waiting for you to discover!
Related Resource
Related Software - Time-limited Offer Today
Special Offer: WonderFox DVD Video Converter
Want to enjoy a complete movie night with your family instead of waiting long time for conversion? WonderFox DVD Video Converter is the best choice, which provides one-stop total solution to Rip DVDs (Disney, Paramount, Sony Included), Convert videos, Download online videos, Edit and Play movies/video with excellent performance.