Since Google Drive has been upgraded, you can't upload video from Google Drive to YouTube directly. However, there is a simple method that can also achieve this task by taking advantage of another Google storage service. I am going to show you how to do it step by step: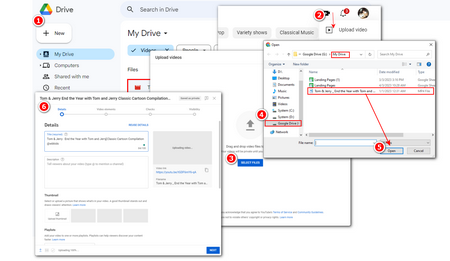 Upload Google Drive to YouTube
Step 1. Open Google Photos (https://photos.google.com/).
Step 2. Enter Google Photos webpage, click Upload button and choose Google Drive option.
Step 3. Select the video you want to upload to YouTube in Drive window. Hit Upload button to upload the video to Google Photos.
Step 4. Open the YouTube upload webpage (https://www.youtube.com/upload). Hit Import Video option on the top-right of the window and import the video from Google Photos.
Step 5. Then select the video in a new upload window, and press Select button to prepare for uploading.
Step 6. You will enter an upload window. You can edit video information below the processing bar. Finally, publish this video as soon as the process is done. Now, you can upload video to YouTube from Google Drive.