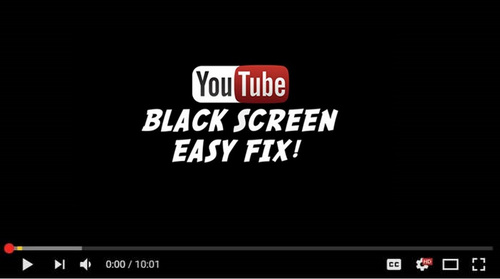 Fix YouTube Videos Black Screen Issue
Have You Encountered the Similar YouTube Black Screen Issues?
For many YouTube loyal fans, you may come across the following situations:
1. When you watch YouTube videos on Chrome, some of the videos are black boxes (even the play button / volume / time stamp bar is blacked out), but the audio works perfectly fine;
2. You click on a YouTube video and the only thing you can see is a black screen where a video should be and it is the same thing when you click on other YouTube videos;
3. All of a sudden, YouTube repeatedly gives you the message that "YouTube an error occurred. Please try again later" with a black screen video when you try to watch YouTube.
You don't know what triggers the YouTube video black problem. In fact, this is a very common issue, which could be caused by a number of things. You are eager to fix this nettlesome problem. Don't get flurried, just keep reading.
Part 1 - Download Videos with YouTube Black Screen Fix
To fix YouTube screen black cases and reawaken your black screen YouTube videos, here are some simple and quick troubleshooting tips below worth a try. Considering that some unknown reasons in different operating conditions, you may make a futile effort and still get confused by following some online methods to refresh black screen YouTube videos. In this case, you are highly recommended to download YouTube video to avoid all unnecessary troubles. Within three easy steps, you can get the YouTube black screen problems solved effortlessly. Just follow the guides to do this.
Free download this freeware and open it.

Free HD Video Converter Factory
A 100% freeware that can help you get rid of YouTube black screen problem. You can free download YouTube videos and convert them to 300+ formats and devices via this freeware. Learn more >
Step 1: Click "Download Video" on the menu bar, then copy and paste the YouTube video URL, then press "Analyze" button.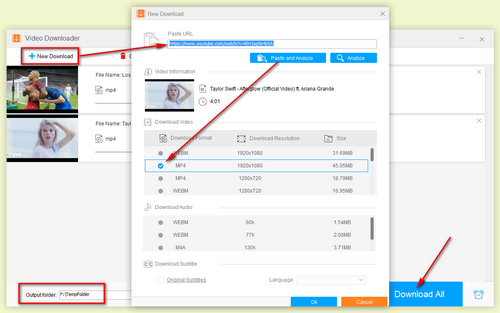 The Steps of YouTube Video Download
Step 2: After analyzing, choose your desired video quality displayed in different resolutions and video sizes. Try to re-analyze the URL if you don't see the due resolution owned by original video in the list.
Step 3: Press the "Download" icon.
Find the downloaded YouTube videos on the output folder, and then you can enjoy them freely without any YouTube video black screen problem.
Moreover, this free YouTube downloader enables you to download 1080P videos, 4K/8K videos, 360-degree videos, even download VR videos and YouTube music with fast speed in batches. After downloading, you are allowed to convert downloaded YouTube videos to 300+ optimized preset profiles on the right side, for example, convert YouTube to ringtone, convert YouTube to WMV, convert video to android and more.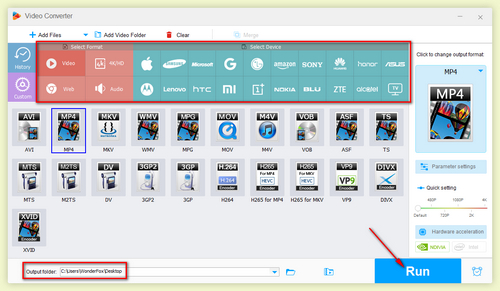 Convert Download YouTube Video
Part 2 - How to Fix YouTube Black Screen Error on Browsers
1. A Poor Internet Connection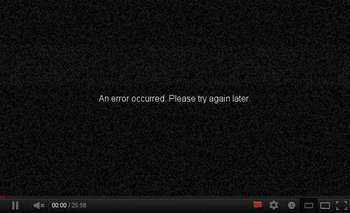 An Error Occurred Please Try Again Later
Your Internet network might cause YouTube videos lagging even YouTube screen black error. Turn off your modem and router for 30 seconds, and then turn them back on again. This is a common method for an error occurred please try again later YouTube fix. To have the best viewing experience, it is advisable to have a broadband connection with at least 1 Mbps.
2. Disable Hardware Acceleration
Some glitches can be solved by disabling hardware acceleration, such as YouTube fullscreen problem, YouTube video is black but sound remains, etc. Just follow simple steps given below.
Disable hardware acceleration (Flash Player): If your YouTube video is using Adobe Flash Player, right click the YouTube video area, press "Settings" and uncheck "Enable Hardware Acceleration".
Disable hardware acceleration (Chrome): Go to "chrome://flags/#disable-accelerated-video-decod" > Change this option to "Enabled" (which disables Hardware Video Decode) > Click the "Restart Chrome" button at the bottom.
Disable hardware acceleration (FireFox): Go to Options > Advanced > General > Uncheck "Use hardware acceleration when available" > Restart FireFox.
3. Check Flash Player & HTML5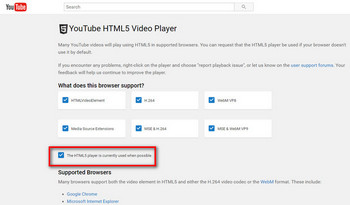 Request for YouTube HTML5 Video Player
Adobe Flash Player is often responsible for video playback issues, so it's necessary to keep it up-to-date all the time. Besides, YouTube has announced that HTML5 will be the default playback method on supported browsers since 2015. So you need to visit https://www.youtube.com/html5 and request for HTML5 Player being used by default.
The simple tricks to resolve YouTube black screen have proven to be workable for most people, and your YouTube videos will play as well as usual. But in view of personal preference on browsers, different operating system or some other unknown reasons, the method in part one is the most effective one to fix YouTube all black errors. This solutions can save you much time and energy. If you still have any problem, submit your YouTube videos black screen problem in the discussion below.
Still got question? Submit it to us and get answer within 24 hours.