Convert Video to Nokia N97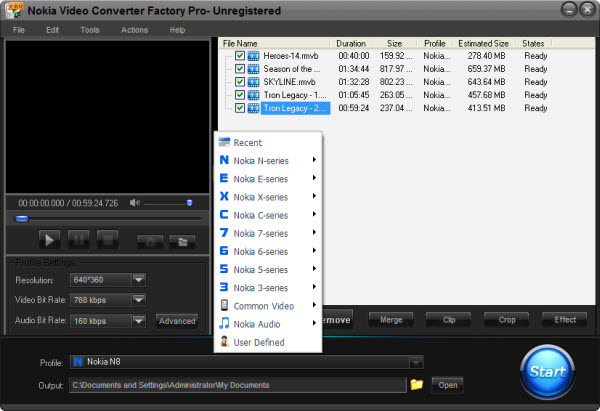 How Much Do You Know About Nokia N97
No matter you know the Nokia N97 more or less, maybe this artic will let you know much more about it. So please read this article patiently. First, let me show you some pictures about Nokia N97.
What a beautiful mobile phone! Perhaps you have such a feeling. Yeah, it is true. Nokia N97 is launched in 2009 with Symbian 9.4 S60 5.0 OS 3G smartphone. It is the first N series touch phone. Nokia N97 with a sliding full QWERTY keyboard style-type, it is the most prominent feature of the cell phone. In the camera, the Nokia N97 adopted a 500-megapixel camera. It also supports digital zoom and auto focus. Outstanding image quality makes it more perfect. And do you know that the quality of play video on N97 is quite outstanding? Its screen using a 3.5-inch 640*360 pixels large resistive touch screen, display effect is perfect. It supports full-screen landscape playback, when you are watching video on Nokia N97, you will have a strong shocking.
Since it has such a good video quality, do you want to play video on it? If your answer is yes, OK, follow me.
Maybe Continue to Read Will Solve Your Query
First you should know Nokia N97 just supports MPEG-4,H.264,AVC,H.263,3GP etc. It can't support FLV, SWF, AVI etc.these popular video format. When you download a FLV video from YouTube, after you transfer the video to Nokia N97, it can't work. When you transfer an animation video to Nokia N97, it still can't work. What are you feeling about it? Quite upset! Take it easy, don't worry. Here is an easy way to solve this problem and change your Nokia N97 into a universal player. What's that? You just need a video converter to convert video to Nokia N97. Next, I will introduce one of the most cheapest and outstanding video converter and it is designed specifically for the Nokia.
You Can Get a Professional Nokia Video Converter within $20, Do You Believe That
Maybe you can't believe that, but it true. The Nokia Video Converter Factory Pro just needs $19.95. Not only can this cheapest Nokia video converting program convert video to Nokia N97, but also other series Nokia phones. Such as N-series, E-series, C-series, 5800/5800i/5800w/5800xm, 5300, 5530, 5230, 5300, 5200 etc. even you can use it to convert video to iPhone, iPod, PSP ect.The Nokia video converter can convert all the popular video, including FLV, AVI, SWF, VOB, MOV, MKV, etc. It also support converting and extract audio to your Nokia. The better, you don't have to figure out what is the right video format or video resolution for your Nokia, our Nokia Video Converter had categorized output video formats by phone model. If you want to convert a video to Nokia N97 or other Nokia series, just select right output video profile that is it. It is simple enough for everyone.
When you want to see your favorite video or movie on your Nokia phone. When you want to listen to your favorite music on your Nokia phone. When you want to convert FLV format so that you can deliver your personal videos on the website.
With this Nokia video converting program, you can do the tasks above easily! Ok, I have written so much. So how about the Nokia Video Converter Factory Pro? It is not depends on me, but you. If you want to know the answer, just free download it and try it.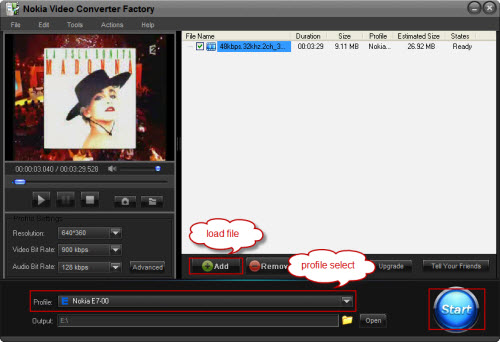 How to Convert Videos to Nokia N97 with the Nokia Video Converter: 1. Download and install the software > 2. Click "Add" to import videos > 3. Select output format in "Profile" setting > 4. Click "Start" to begin converting process > 5. Open output profile to get the output video. Change your life start from your cell phone.
More Information of Nokia Video Converter Factory Pro
Nokia Video Converter Factory Pro 4.5 supports to convert all popular video formats (such as AVI, MPEG, WMV, MKV, FLV, VOB, etc) to almost all Nokia mobile phones (such as Nokia N8, Nokia N97, Nokia X6, Nokia X3, Nokia E7, Nokia E73, Nokia E62, Nokia 5800, Nokia 5530, etc.).
See the hot related tips about Nokia Video Converter Factory Pro here: How to convert video to Nokia N8, how to convert video to Nokia N9, how to convert video to Nokia Lumia 800, how to convert video to Nokia Lumia 900, how to convert video to Lumia 710. Actually, Nokia Video Converter Factory Pro can help you do more, to find the tips or how-to tutorial related to your Nokia cell phone model, please see the tips center of Nokia: Nokia video converting tips center >>
The software preset MP4 as the default video format for all Nokia mobile phones. All users have to do is to match the right phones and start the converting process. Besides, the Nokia Video Converter also supports to convert some other formats such as 3GP, WMV, FLV and AVI for users as an option. And the software supports to extract audio files (MP3, AAC, WMA, and WAV) from videos. Furthermore, Nokia Video Converter Factory Pro provides very fast conversion speed and good image quality. 'Convert in batches' is also available for users. Such features would help user save time on the converting process and enjoy videos on Nokia mobile phones with nice image.
Screenshot of Nokia Video Converter