Nokia Video Converter - Convert Video & DVD to Nokia C7
Let your Nokia C7 cell phone able to play all of videos, audios and copy protected DVDs without format compatibility issues
Do you want to convert any videos, movies, DVDs to your Nokia C7?
Do you want to change your Nokia C7 into a comprehensive player?
Do you want to watch wonderful movie anywhere and anytime with your Nokia C7?
Want to find some useful apps for the new Nokia C7?
This article below will help you achieve your goal - convert video and copy protected DVD to Nokia C7 compatible video and audio easily and conveniently.
Stunning Nokia C7 Smartphone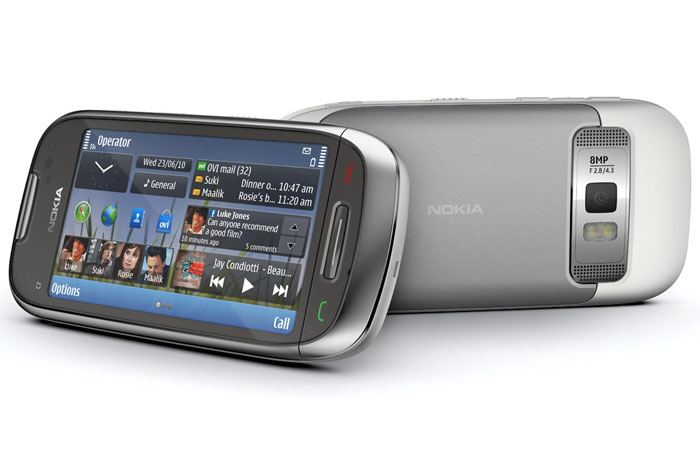 Since the Nokia C7 had been announced at Nokia World last month, it starts shipping to people all over the world. The sleek and beautifully crafted social networking mobile phone is the second Symbian3 device to hit the market. You can get your Facebook, Twitter and new emails from Yahoo! or Gmail accounts directly from social networks on the home screen. The Nokia C7 appearance looks like a piece of metal, because it combines stainless steel and glass in a sleek, and its display features a 3.5-inch, 640 x 360 pixel capacitive touchscreen, and looks absolutely stunning! This touch screen can be comparable to iPhone. You are so lucky if you get a Nokia C7. In addition, the effects of the video and audio playing are both excellent. Its MicroSD memory card capacity is up to 32 GB. It is totally not necessary for you to worry about its capacity. With it, you will surely get a lot of fun.
The Main Limitation of the Nokia C7
1. The main limitation of C7 is a few supported video formats. The video formats that C7 can support include MP4, H.263, H.264, and WMV. If you want to play a YouTube video file or AVI video file or your home DVD disc, and share the video with your friend, you will be disappointed.
2. The second Limitation is video playback compatibility. Maybe you have already transferred two mp4 (X264) videos to Nokia C7, one file can be play well, one file cannot be play on Nokia C7. This is compatibility issues.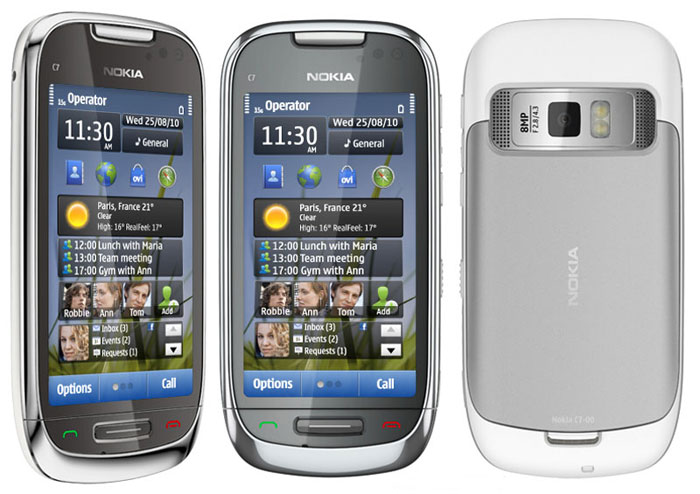 Is there a way to solve the limitation on Nokia C7? Of course, you only need a professional Nokia C7 video converter.
How to Find A Professional Nokia C7 Video Converter
Since we have known we need to find a Nokia C7 video converter to crack the limitation of video format that C7 has, there is an attendant question: how to choose a good video to Nokia C7 video converter? Here are some useful tips that we should pay more attention to when choosing a video to Nokia C7 video converter as below:
Security: This is the most important point.
Functions and features: Fast converting speed can save the time and high quality make you enjoy videos comfortably.
Input Video Formats: Support converting video, audio and DVD, they are familiar film source we can easy access.
These are main tips we have to consider, the key point is that Nokia C7 video converter can meet all your requirements. If you still have no idea about it, then I suggest the Nokia Video Converter Factory Pro to you. It is a good one and it can totally meet requirements above. This Nokia video converting tool can convert all popular video formats to not only Nokia C7 format, also the whole Nokia Family cell phone, such as Nokia Lumia series(Lumia 1020, Lumia 900, Lumia 820, etc.), Nseries (Nokia N9, Nokia N8, etc), Eseries, 5series and so on. There is no need for you to figure out what is the right video format, resolution, encoder, frame rate for your Nokia phone, just select right model for your Nokia phone. That is it, simple enough for everyone. Especially the function (Clip, Crop, Merge and Effect) will bring you more pleasure.
What's more, only $19.95 you can get the updated version of Nokia video converter - Nokia Video Converter Factory Pro 5.0. By the way, it's not just a Nokia C7 video converter; as long as your phone is Nokia, it can do the task.
Have A Free Trial Now:
The Limits of Free Trial
License benefits
The unregistered edition will limited to converting maximum 5 minutes.

Secure Download

Free upgrade lifetime.
Free technical support.
Get back license key free.
30 day money back.

$19.95 (Save $10)
More Info and Tips Related Nokia Video Converter Factory Pro
Nokia Video Converter Factory Pro is powerful and advanced converter designed to convert all video formats to 3GP and MP4 video formats for all of Nokia cell phones. It also supports converting video, audio, DVD and extracting audio to your Nokia. What's more, it can also help you to rip copy protected DVD to your Nokia C7 cell phone.
This Nokia video converter provide powerful video editing function such as crop video, cut video, merge video etc.
Nokia Video Converter Factory Pro always keeps us with the development of Nokia cell phones, will add new profiles for new Nokia cell phones. Now, Nokia Lumia and N series are new and still popular with people, for users who want to convert video to these popular cell phones, Nokia Video Converter Factory Pro can easily help you do that, see the related tips here: how to convert video to Nokia N8, how to convert video to Nokia N9, how to convert video to Nokia Lumia 800, how to convert video to Nokia Lumia 900, how to convert video to Lumia 710
Actually, Nokia Video Converter Factory Pro can help you convert any video to nearly all Nokia cell phones models with optimized presets, so you do not have to figure out what the video settings for your Nokia cell phones, you just need to select the device name from the output profile and then all the settings are optimized beforehand. For more tips and how-to tutorials related Nokia Video Converter Factory Pro, please see the Nokia video converting tips center >>.