3GP Video Format Converter, Convert Video to 3GP Video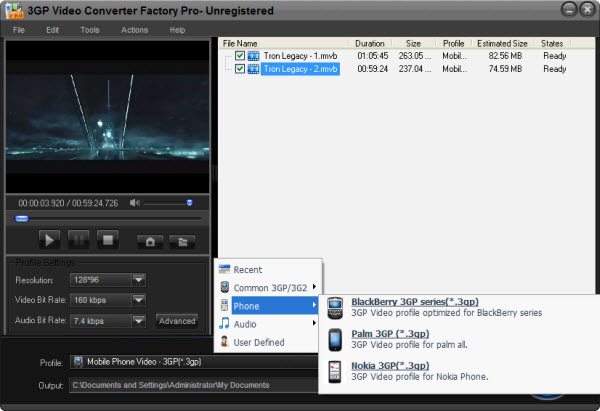 Do you have a mobile phone?
Your answer must be YES.
Do you want to play videos on your mobile phone?
Your answer must be YES too.
Do your mobile phone support 3GP format?
I help you say YES!
3GP is a very popular video format; it is widely used by mobile phones. Nowadays, many people like watching videos on the portable digital devices like their mobile phone, but sometimes because of the limitation of the format, some people can not watch videos on the portable digital devices like mobile phone. At that time, 3GP is really necessary, so with a 3GP video format converter, you can watch your videos on your portable devices whenever you need or wherever you go.
Further Introduction of 3GP
Before we get the right format 3GP with the help of 3GP video format converter, we should have some knowledge of 3GP in order to clear what 3GP can give us and why we sometimes should convert 3GP as our target format.

3GP: 3GP (3GPP file format) is a multimedia container format defined by the Third Generation Partnership Project (3GPP) for 3G UMTS multimedia services. It is used on 3G mobile phones but can also be played on some 2G and 4G phones. Most 3G capable mobile phones support the playback and recording of video in 3GP format (memory, maximum file size for playback and recording, and resolution limits exist and vary).
When transferred to a computer, 3GP movies can sometimes be viewed on Linux, Mac, and Windows platforms with MPlayer and VLC media player. Programs such as Media Player Classic, K-Multimedia Player, Totem, RealPlayer, QuickTime, and GOM Player can also be used.
Having some knowledge of 3GP, we can know that it is not only your mobile phone's assistant but also widely used in many other fields. So 3GP is really a valuable format for us.
How to Choose a Good 3GP Video Format Converter?
Some people may be confused by how to choose the right 3GP video format converter, because they can see different types of 3GP video format converters in the related market, some of them do not have the functions as the advertised. So, we should clear how to choose a good 3GP video format converter. Here are some suggestions below:
1. Easy to use; if the one is too complicated to operate, you may feel bored and it will waste your time to learn the guide.
2. Speed and quality; fast speed and high quality are the aspects which are concerned most. Fast converting speed will save your time on the process, and high quality can make you enjoy videos comfortably.
3. Updating; this is very important, without updating, the one you use will be a garbage file sooner or later.
Here I recommend powerful 3GP converting software for you - 3GP Video Converter Factory Pro. It is 3GP converting software for mobile phone users. With the 3GP video converter, you can convert batch of video files to 3gp and 3g2 formats to be played on your mobile phones include Nokia, BlackBerry, Palm, Sony Ericsson, Motorola, Samsung, Philips, LG, NEC etc. It support all mobile phone, don't worry it does not support your phone.
3GP Video Converter Factory - Your mobile phone's true friend!
Screenshot of 3GP Video Converter